Ombudsman receives the United Nations High Commissioner for Human Rights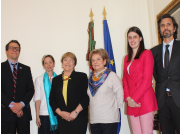 The Ombudsman, Maria Lúcia Amaral, received this afternoon Michelle Bachelet, the United Nations High Commissioner for Human Rights.
The meeting addressed the concerns and recommendations that the Ombudsman, as National Human Rights Institution, has recently presented in the scope of the Universal Periodic Review. As part of this process, which this year focuses on Portugal, the 193 UN member countries are invited to report every four years on the current status and progress made in fulfilling their international human rights obligations.
During the pre-session of the Universal Periodic Review of Portugal, which took place in Geneva on 3 and 4 April, the Ombudsman stressed that Portugal has a long-standing commitment to the recognition and protection of human rights, in recent decades, efforts have been made to be in line with the highest international standards.
Nevertheless, there are persistent shortcomings in the realization of social rights, in particular due to delays in the payment of old-age, invalidity and survivors' pensions, raising still deep concern the high number of cases of domestic violence and the systemic problems affecting the prison system.
In her meeting with Maria Lúcia Amaral, Michelle Bachelet was accompanied by her Special Assistant, Carmen Domínguez, and by Pol Planas, responsible for Human Rights in Europe and Central Asia. Next to the Ombudsman was the Head of Cabinet Selma Bettencourt and the Adviser Ricardo Carvalho.