Second evaluation of the human rights training program conducted by the Ombudsman of Portugal with the Turkish counterpart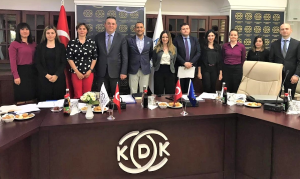 The second interim evaluation of the twinning project aimed at strenghtening the role of the Ombudsman of Turkey on enforcement of Human Rights, under the responsibility of the Ombudsman of Portugal, was held in Ankara on 30 April. The representatives of the two institutions, the European Union Delegation in Turkey, and representatives of the Turkish Government and Parliament were present.
To the date, eight missions have already been carried out to train the staff of the Turkish Institution to deal with complaints in a wide range of subjects. The training programme was approved by the European Union.
In the last quarter, trainings on social security, on the right to education and culture, on energy, protection of human rights and mining activities, sports, tax law, banking law and transport took place.
During the project, two dozen collaborators from the Ombudsman's Office of Portugal, from the most diverse thematic areas, will travel to Ankara to share their experience with the advisers and coordinators of the homologous Institution of Turkey. The beneficiary institution has been active since 2013, and has responded to a volume of complaints that amounts to 2,500 per month.
This Portuguese-Turkish partnership was inaugurated on November 12, 2018, after the selection of the Portuguese Ombudsman by the EU to lead the twinning project.
The project concluded its first evaluation in February and will end with two study visits from the Turkish Ombudsman's staff and with one High-Level visit by the Turkish Chief Ombudsman to the Portuguese Institution.
Ana Rita Gil, Deputy of the Ombudsperson Cabinet, and Miguel Coelho, Coordinator at the Ombudsman's Office, lead the coordination of this project.