Gender violence and equality under debate at the 24th FIO Congress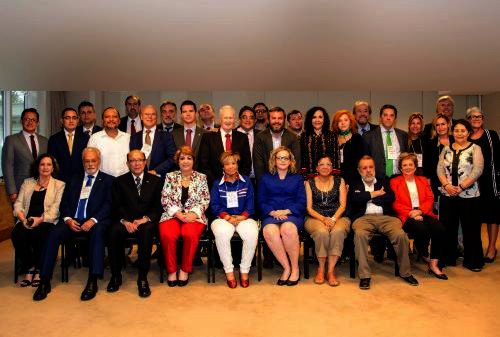 The Ombudsman, Maria Lúcia Amaral, participates in the XXIV Congress and General Assembly of the Ibero-American Ombudsman Federation (FIO), which takes place in Rio de Janeiro, Brazil, from November 26 to 28, 2019.
Representatives of national human rights institutions from more than 20 Ibero-American countries are gathering around the theme of "gender violence and its impacts on equality", including access to rights such as education and health.
The theme of the Congress, prepared by the Federal Prosecutor's Office for Citizens of Brazil, coincides with that of the FIO Annual Report based on a survey by the University of Alcalá (Madrid) that will be presented during the event.
For more information click here.
<img src="data:image/jpeg;base64,/9j/4AAQSkZJRgABAQEAYABgAAD/4QCORXhpZgAATU0AKgAAAAgAAgESAAMAAAABAAEAAIdpAAQAAAABAAAAJgAAAAAABJADAAIAAAAUAAAAXJAEAAIAAAAUAAAAcJKRAAIAAAADMjcAAJKSAAIAAAADMjcAAAAAAAAyMDE5OjExOjI5IDE3OjIyOjQyADIwMTk6MTE6MjkgMTc6MjI6NDIAAAD/4QGgaHR0cDovL25zLmFkb2JlLmNvbS94YXAvMS4wLwA8P3hwYWNrZXQgYmVnaW49J++7vycgaWQ9J1c1TTBNcENlaGlIenJlU3pOVGN6a2M5ZCc/Pg0KPHg6eG1wbWV0YSB4bWxuczp4PSJhZG9iZTpuczptZXRhLyI+PHJkZjpSREYgeG1sbnM6cmRmPSJodHRwOi8vd3d3LnczLm9yZy8xOTk5LzAyLzIyLXJkZi1zeW50YXgtbnMjIj48cmRmOkRlc2NyaXB0aW9uIHJkZjphYm91dD0idXVpZDpmYWY1YmRkNS1iYTNkLTExZGEtYWQzMS1kMzNkNzUxODJmMWIiIHhtbG5zOnhtcD0iaHR0cDovL25zLmFkb2JlLmNvbS94YXAvMS4wLyI+PHhtcDpDcmVhdGVEYXRlPjIwMTktMTEtMjlUMTc6MjI6NDIuMjcwPC94bXA6Q3JlYXRlRGF0ZT48L3JkZjpEZXNjcmlwdGlvbj48L3JkZjpSREY+PC94OnhtcG1ldGE+DQo8P3hwYWNrZXQgZW5kPSd3Jz8+/9sAQwAGBAUGBQQGBgUGBwcGCAoQCgoJCQoUDg8MEBcUGBgXFBYWGh0lHxobIxwWFiAsICMmJykqKRkfLTAtKDAlKCko/9sAQwEHBwcKCAoTCgoTKBoWGigoKCgoKCgoKCgoKCgoKCgoKCgoKCgoKCgoKCgoKCgoKCgoKCgoKCgoKCgoKCgoKCgo/8AAEQgBUQH0AwEiAAIRAQMRAf/EAB8AAAEFAQEBAQEBAAAAAAAAAAABAgMEBQYHCAkKC//EALUQAAIBAwMCBAMFBQQEAAABfQECAwAEEQUSITFBBhNRYQcicRQygZGhCCNCscEVUtHwJDNicoIJChYXGBkaJSYnKCkqNDU2Nzg5OkNERUZHSElKU1RVVldYWVpjZGVmZ2hpanN0dXZ3eHl6g4SFhoeIiYqSk5SVlpeYmZqio6Slpqeoqaqys7S1tre4ubrCw8TFxsfIycrS09TV1tfY2drh4uPk5ebn6Onq8fLz9PX29/j5+v/EAB8BAAMBAQEBAQEBAQEAAAAAAAABAgMEBQYHCAkKC//EALURAAIBAgQEAwQHBQQEAAECdwABAgMRBAUhMQYSQVEHYXETIjKBCBRCkaGxwQkjM1LwFWJy0QoWJDThJfEXGBkaJicoKSo1Njc4OTpDREVGR0hJSlNUVVZXWFlaY2RlZmdoaWpzdHV2d3h5eoKDhIWGh4iJipKTlJWWl5iZmqKjpKWmp6ipqrKztLW2t7i5usLDxMXGx8jJytLT1NXW19jZ2uLj5OXm5+jp6vLz9PX29/j5+v/aAAwDAQACEQMRAD8A9dzS5qLdml3VBrYlDU7dUO73pc0gSJs0uTUIanbqAsS5pwNQ7qXdQOxOGpc1Bupd1ICfNLuqANShqBk4NLuqDdS7qLi1J80u6od1LuouFibdS7qh3Uu6gLE26nBqg3Uu6gCbdRmod1LuoAmyKKi3Uu6mBJmjJ9aj3UbqBkuTRzUe6jdRcCSio91G6lcB9JmmbqQtRcB5NMZqYzU0tSuFhxamM1MLUxmouOw4tTS1RlqYWpDJC1JuqEtRuoAm3mlDVX3Uu6lcCwGpwNVg1PDUwLAanhqrhqeGoAnDUoNQ7qdmncLE2aM1Fuo3UXFYlzSZqPdSbqdwsSZpuaYWpN1FxWH5ppNMLUmaLhYdmmk03dSFqLjHE00mmlqbuouIcTTc03dSFqYDs0UzdRQBHupd1Q7qN1Aifd70oaoN1LuoAsBvrRuquHpd9K4yxupd1V99G+i4WLG+l3VW30vmVNx2LO+l31V30u+i4FrfSh6rBqXdQBa30oeq26lD0AWt1Luqtvpwei4FjfS7qr76duouFifdS7vrUAajdTuFiff9aXd9ag3UbqLhYn3fWl3VAGpd1K4WJt1GfrUO6jdRcdifP1pN1Q7qN1AiUtSFvrURak3UhkhamFqYWpjNQA8tUbNTS1MZqAHFqYWphamFqQyQtSbqiLUmaLgS76UNUGacDSAnDU4NUAanBqdwLAanhqrhqcGoAsBqdmoA1KGphYnzS7qh3UbqAJt1JuqLdTd1AE26m7qj3fSm7qAJS1N31HuppancCQmkzUZakLUrgSZppNRl6aWphYlzTS1R7qTdRcLEm6ios0UXEQ7sUu6os0madyCbfRuqHdRuoBE+6jdVffSb6RRY30b6r76N1ICxupd9Vt9G+kMtb6N9Vd9LvpXGW99OD1UD0oei4FsPTg9VN9PD0XCxaD07fVUPTt9O4rFoNTg1VQ9O3UXCxY3U7dVbfSh6LhYs7qN9V91LuouOxPvpd9QbqN1FwJ91G+oN1LvouBNuo31DupN1FwsTb6C1Qb6QtSuMlLU1mqItTS1FwJGamFqjLUxm5ouFh5bNNLUwtTc0rjsPLUm6mZpM0XCxJupd1RZpc0rjsTA04NUIanBhTuKxOGpwaoAacDRcLE4al3VBmlzRcLFjdRuqDPvSFqdxWJ91IWqHdRuouFiXdSbqhLUm6i4WJt1N3VEWpN9FwsSk03NR7qbup3AlJpN1RbqQtRcCXdSbqi3Um6i4Eu6iotwoouBFmjNR5pM+9UY3H7qQtTCaYWoGiTdRuqHdSbqRRPvpC9QF6TfUjJ99G+q++k30ii1vo8yqu+nb6VwLO+nK9Vg1KGouMth6cHqqrU4NRcLFsPTg1VQ1P3UXCxZD04PVUNTw1O4WLO+l3VX3Uoai4WLG6l3VX3Uu6i4WJ91G6od1LuouFibfS7qg3CjfSuFifdSFqh3ijeKLjsS7qTdUW6m76VwsTFqaWqItTd3vTuFiQtTd1RlqaWpXGSFqbuqMtTd1A7Eu6k3VFuo3UgsTbqXdUG7/ADinBqB2Jg1OzUGf84pQ1AWJwxpweoA1KGoFYn30oaoA1LuphYn3Ubqg3Um+gLE++k31Buo30BYmLUhaod9N3UXCxPuppaot9IWouKxNupu6od9JvouFibdSFqiL00vTuKxNupC3+c1FupN1FwsS7qKi3Cii4WHGmE09qjatTlELUxjQTTGOKGUg3U1mppao2apKRIWpu6oi1NLUi0Sl6N9QbqN1SyixvpQ1Vw1O3VI0iwHp4eqwanBqCrFkNTw1VQ1PV6AsWQ9PD1W304NQKxZD04PVYNTg1A7FkPS76rBqduoCxY30oeq+6l3UBYsb6N9QbqUNQFifcKNwqHdRuoCxNuHpRvqHdTd1AWJy9NL1FuppagZMXpu6oi1N3UASl6aWqEtSF6LgS76QtUO6k30rgTbqN1Q76N1FwJw1Luqvup26lcCcNTt1Vw1Lup3AsbqUNUAal3UXAn3Ubqg3Uu6i4E26jdUG6jdRcCbdSbqi3U3dRcCbfSF6h3Uhai4Exek31CWpN9FwJi1N3VFvppei4E+6k3VBvo307gTbqQtUO+k3UATbqKg3UUCsaLCojS2Inlvrq3uUEZhlWMADBwQTz78CrltBbPfSW1w7IAyhXDfdGMkkY5/SutwZwKatczWNRNXbDwzYXVms1nNMxZclWcHH5L1rA/s63aTgziPopYgFuTzj04H50vZyBVFcw2NRs1a2oaclvGGVmOT3P/1qzbqJY7N5VzuXGM9KhxZqpplctzTWasO71S4jmdVWMgdMg/41Qn127UsFSDIXcMqf8ag1R1G6l3Vh2WpTzoC6x8+gP+NX0uGPXFJxY+ZF7dTg1VVcn0q5HErQ7uc4zS5WPnSANTg1VZ5Gjj3LjPvT43JwSAeOgpcrK50WgacGqAP6r+v/ANarSopUfeyff/61HKxe0QgNODUiqjMVU5cDJAPIqNmIYgDH1osHOiwGpwaqoZqVnYDtRysfOi1up26mRxllByaf5WO9HKxe0Qu6l3UnlcdajkyjcUcrHzomDUoaq25vaje3tSsw50Wt1G6oYjvYg9gDUuwepp8rDnQbqQtS+WPU0eWPU0crFzobuppantENuRmoio9TS5WPnQpemF6Up6mmLHuUHJ6Zosw50Bemlqf5Q9TSeSD3NHKw5kM3Um73qTyF9TTfJX1NLlYcyGbvejfTzAvqaYYgCOTycUcrHzIUNS7qPKA7mjyx6mlysOZDg1Lvpmweppdn1o5WHOh++nb6i20YpcrHzIl3Uu+q6EsXB/hbH6Clyadg5kT7qTdUGTSFj7UWDmRPvpN9Qbm9qaXb2/KizDmRY300tVOaZ0UEYOWUcj1NK0r9ttFmHMi1upN1VIpyZlExVY8/M3TFWhJaPkRSSSn/AGOf6UmrbjTTAtSb6qy3cKsQG244IY81C1/CP+Wi/nU8xVi/upN1Zp1K3zjzY8+m6m/2nAWVRLHuY4A3dadxWRqb6TdWZ/aMZztdGwccHPNMbUDztXNFxWNbfRWR9ul7KlFFwO4huftmvX85BBkniyD2/dtTHiMmsXAXjlQW7AY7+1SWsKw61dqgGPNiP/jjVdsbdJ9Wv94B27MZHtXpTWiPJj8Ju6Xqq2VsschCpgswyP8AOfyrlNGG7SLN+/2aI/8AjtbeoQ2tpYzz3DJFDHGzu7YAUAZJNeIxfGfS7TT44LHSdSvWhiSIuFCoSowTnJOPwpqSS1YoJydkemX5YxAEnGay7840+QepX+dYngzx5ZeMo544baa0urfDSRSHcMHuCOvPqBW7qQ/0Nx9KykdEFbRnE3//AB+OOmcVnMuZlz3XH61e1Jtt456gBP51SupY7aN5pmCRxglmPYVkdC2Lej8243da2I+lcdo+oa1eQGbSPD89zbE5Vnk8ssPUDB/nV7WNTuX8PX6rBPYaiqBWinXDIGbbuB6EdcEelJTi3a+oSpzS5raE15420SyvDbS3YMisVfapYAjtwK6vQtVsdW00zadcxzouQ208qfcHkVxfhvwT4fkt1a5WOWaOPeUaTpnqSM9ODW5omjaPpE0dxojBYpg0cio+Vyfu1m68U0jaWFmo3ua15/x7n61LD90fQVHe/Lbknpmk02HUtTRZLCOCK2xw8wJZx6hRjA98/hSqVoUtZsmlRnW0grlrFZvja+msdAb7LIYp7h1t0kHVN3Uj3xnHvWzc20lp5P2gpmUlQVORuHb69/8A9RrO8XQxS6KGljEhjkWRQRnBH+TVQqRnHmiyJU3GajNGV4TGn6JCbuGaK4LnbMZpN/mE+vOc1o6frtvqetX1lAoX7MqMpzncp7+/pmudmmsYpjELPzIcI8uMEcg5+U/e6j8q6HRbe2TUJWhVFmlUKSo/hXGP51yqMYT52ehUhzxsjXApWXIrpLHSVFrudUZmH8QzWDeR+TcNGcZ6j3Ga0p4qFR2Rz1cJOnHmfQJ760soGe7uYotibirN8xHsKq2HiDTL8xrbXkReThEJwzfQGuX8J2ljd6k93qb+dqM7kMZFJX2UcYAA6D3q14ltdGvllhjQG+twXiZVKFWHcHv0qXWknfoWsJHkvfU6rULyDT7OW6vJBFbxLudj2Fefy/FLTDc4+wX5t84EoVeeeuM10XiBY70+HYNUjRrK6m/fqx+XcImYA+2QT+Arq7jTfC0Wlmb7JYeV/qyywhsH3wK0qVuV2sRRwvtI8zdjH02+tdTs47qxmSeBxkMp/Q+h9jVoCuT0CKDRvE+vQxRpb6bKsV3HtGFG7KnA7cj9K2jrsl5NKLOM2joMRE4K4Hc5wM9eMmk62icUEMK5Sab2NeEfMfpU2KblxDZzXEaRzTrtcKRww78ccj04zWlpdl9rdmb/AFaEZGcE1Ua0XByfQylRlGfIUAKSuxn0m2NmQtugOOGBOa5S6hNtKVfoBnPrRCvGo7IU6MoK5AahY4zk4HrXnGpeK/EGvaoYPB0Cm3t3ZXkfbh+mMk9O/FVdf1/Wrq0j0PVov7Ju7qRUkn7GPPzbCCRn/DpzwOrG9hqjO17aHeS6/pEdyIJNUslmzjYZlzk/jWpGP3Yx6V59/ZfhKC2aI2aTI0e5WaJQ8gGcsCTk8hueOlT+F/FtraNeafcOz2ln5YtZgCS6NkBTnuMHk+lTGt/MrGlShy2s7neEcUmK5PXfE97bwtPp+nzSRLjA8lm3E9Bnj+VanhvXV1qF1ktp7O7iAMsEykEA9CPUVUKsZ7ETozhujYpCKpavrFhpEYfULlIVJwMgk/kKl0+/tNRh82xuIp4x1KNnH19KrmTdkzOzJzTWHT61j+KfElh4cs/OvpRuI+SIH5nPtXC6J4w8XeKLyU+HtItpLaM5O8HCj3fIGfam2krsEnJ2R6mRSYrkvDXiya81aTR9csWsNVjXdt/hkHqP8muvpJpq6Bpp2Ym3ikxViO2mkxsQkHoegpksTRvsfAYdgQTWftqfNycyv2uX7OVr2JLSwmutxiA2g4JPqew9akuNKuYCQ6AsBkqCCRXPWOvyreX6K7JDDJswp5OKtX2qwwwwzRtiSQgKwcZ5+p5/DNYurUbdtjrhhYuN2yZBjf8A72f0FKRWV4Uv/wC0LW5DuHlgmMbEf5+v5VF4u1Z9Mhtbe25vb2TyYOQMHuefTIrdT927OXl97lRsGkxXJp4D8TtaPPDr6x3Lnf8APvbHtnPH5VJ4T1TUv7Tu9D8QiM6hbL5izRn5Zk9cccjIqYVoT0TLqUJ01eS0OmI4phGKnKmo2WtTIrTj5V/3l/nSsPSnTj5R/vD+dDdaBDIRGJDJMjSIgyY0OC/+yPrVpfEmvAmOyS00+zxjy4ogzY+vPPvWXeziKaCP+KRjjnGcA/41Rvo4hcSfZYpGuHTMgDHgYx78VzT96pZndh6UZQ5mXJblL/cZG/0lB8zcYcevHeqrRVXskgW6hMAKqUOMk8/4itBlramrRsc1dWmZqwgzS/59KDGBc2x/6aitzS9He7S4uXkSK3QhcseWPHStK58PWzW8clrNI0kbBmLYAOPaq9rFOxl7NtXRxyptmn4x+9f/ANCNTIMmluEKXc4Ix+9cj6bjinLUvctIXH+cUU8LmipHY7zTrhrnVLp3TYwljBH/AAF6m/tFtP1a92xl9+3oPamaVEyajeBzk+ZHz+D1S1i1kudZuBG7JtAJ2n2FenU0seVH4TmvjZrdzd+CmsIo2ja9njhJXjC5yc89OKy/BsOm22mxq2xIUUJvZSFBAzgnoOOea2vHGlSzaJPMTnyF3nK8YBBP8qyoUOLeOCANGI9znPyuSMdRz/n2rgxdpO0j2MqVotw3Zj+IYILfxRoOo6K6pI16kEhjyN8bHDAjuK9C1Bf9GYetc9LptsbyzuGR1beJDgY3SHox9+/PpXS6l/qaWE/h28ycwSVXzPPtW+W6l46Ip/U1ieILZ73SLhFR3TcrSbBkhcg9K3NW/wCPufHXyh/7PWVfagLCxYkgiQKhUnG7OB+Y61tJ6XRlBK6ud54N1GW1WG3GnP5A2xEuxDrwADjGCP8AgVYniyZ9WkbzrF7bbvTzVYuFjI3ZbIGOUU8ZrpdGunu9EtEtJNzKVYsCAy4+oPesT4ka9BpehxW99cJBPMGTH3yRjnoPp2715ai/aLlWp7FRpU25PQyrCKxSG1uNpEsuQ2Sfu7SMd+OldDbR6fBCDGkcayMGJ24JauC8Ez3uoWn2nTWkazSQorMmRuAGRj8c1017ZT2um3OpapM3lM6xRjGMtnkAeu0MfwronSldLqYRxEeS5L4u87+wpRb53NJGrY5+QsA3/jua63w7NfwqgezRYC20OWB3/QD+tcW/iLTdS0qf7Bcq8iqUMR+VhwR0PWtPSry3vWS1fUGjECqTA52ljyQcnkHtxWWNg3JXQ8vlFReu5a8XtqU+nySC1jQKRLHIsn3nUggY/D3rkPFvxB0uO3+xWKyXdy7BVwNqhv51s+K9ctvD9jcpPdLdGBVljhQbepwq5HBye+K8S8IxnUviNpPmqMTX8cjL1GN4JFbZdSbTvsY5lKPNHlep7JH4X1W2uVs5I3ufNU+RIBnzB9e3v6V1Fh4cl0iey89903kHewJI3hxuA/Bh+Rqp4jNqfit4dguWnTy4SYyshChyW2DA91/HIzxW98YoZ4NB0m8tifNtL+F/lGc7jsP/AKHXRWpRnFpPUxp1ZU5QlJGlcu9vG80U12yAH5eoB49s4rAvIlTUoxFcSz5Rixk5xnHetKW+tpopE1C3ZLoDYwC8nHbNc34w1WXw3DaalqFoyQThooYydpGMcn0zxXnUlK60PRruCpsgtI1t7eWQwq8qyfJgHkk5wcA+vX3qa0f7XHk2whmziRT/AAr1wCevpxWF4c1q61Pw6+t2L2wkE8kEltI2A43Ert7k4IqjqmtXUVjcapcz2kctrsjjtI2Bcl2GSw6gbVb8RXX9Xdnc5friUUj0aZbVI7F7mFZEiIaPcMgHaV6fQkfjW59pxcL9njVYBj92I8Z46jnGOnavJNL+IMGqW4tbyAxNEOXiBZG/A8j9a9Kj0zUIP9Hjv5Y7ZhkLtBI9gT2rGpFyldI0w1RctmUfEZgvF1RCiszRBcjsBnH5E5rAGpWskix3EsfnxuQ4UA84xxXSavptvp89tHJN5ck8bhQ5+8Rt5J9Tu71zEOl2+o6hcNblftNqqtKp43Ic85742mlThPmUbDdZczd9Db0e/wDtEhgiieSBAN0jjGD2xXU6XI0UgRcjc3p1rmbaODSfD99q4CzRgKF8tgyg71Gcin+HvEMWs6mYrdGCw4dnHKjnA5/HpV1KcoQd1uQpxqVlboegyakVgYG0uTyFwF5574riPGRnk0fVBbq/2k28ixgjBDEHA/WuinfUlmA81PKzu83d2+mP0rl9b1uDTNLub3UJTneVRVUszsegVRyT9KimmpabjqxShr3Oa+HKz6Rp9rDFbkWyqGYuh3uzH5uQcDHpzVH4wGTULSW3S1B2ETRyqGYhlPQcY55HHr3rotDkN1B9lV2gufMJlhkBU9e2CCDWd4tvWtLNLMzCW+aYeXGPmAJPGevcisoxfMnbW51SUVT30Ofa/wBP2zbjZx26ndIC6rtKZBG3Gf4jx71oaXcBvGmmfYo0NtNbyZIXCnHOB+lYQ+H2m3gkupjI0jt5kjMvLN1JPuafceJP7G16zsorZhDZlXaQj7gOVwfrwa3rUpPRLbc56dZXTlt0PaLbVoP7LmL2VyDERkGHliePl9a891/Up4NeW6tIGSMWVxLIHXnEa5GfxOK3V1TWrxEnW4tAZMGOIHO9QfU8j0OAaxYNSfWvE88syRyCC0aB9oymSRuA9R8tYxXK0+xvWa9m13Oc8P6dp3iDTra+18zTzXBbYk0uADn+AZHGP6muwtYLPT7iK0021SJYid7xjG9CO/HJDYxk55P4s8OS2Vn51jZjbBEWWFXXBUZ6DP8A+rpT49QuLfUI7K4BQyv8u7AZ1C85wB0xWkVfVEyhH2bT7HhnxU1GS88X3EZk3pABF8o4B749xmvoH4V211onhFbNdIlikSPeryvjz3PfHUDkV8teK5Zf+EiurpvnkMxfeBxnOa+pvDert4h0iG+sr2IxNCp2yMVMffBAIrbEr3F2OPCRUpu+55d8a7m6sfEmgasYJLK+kjZXjVhuG1h6eu4/hXpEWpIdFhvsL+9Rdo7bjXjHxx146n4tt7TzWnNhFteTG3czEHj1GAPxNdjaTN/wiPh2F5NiFWlbaDg8nA5/GsMQ5UsNpo7FxiqmJs9Ueg+HbNtcvGE1yyWqffCvtZz6D2p2sWlro17FNYMDbs+1/Mcna3YZPIz6VX8Atbpof2oFGvBOVYbiQoz04zzir/j57d/DLxxxKpuHBJUBSxHJOD6Yrx4YGKoK3xb363PVdd8+vw7WOXhhtNN1a+e1G5pAZ3Rj1JJ9ffNSNdXcCpLcQQmCQ7cDAKZPUnPbPaue81dSuV06ObZclfMt29SuDj6HFTaYNd1S9NhftD5O796UBJCjr16Zr2MDCpWoqclqzhxFeFGbguh1PhSzt4Le5a3XBmlMjn1J/pUeuaVDdeINGurkEpamTbjszDA4/CuUT4h23hXUrrR9at5ZZIGAE8IGXUqGBK9M4Izius0vUYvF9jNd6RFOkluqyLFOm1n5PIGenBrWcKkY8jWpx0pwdTmex0EEt1bWr2bX0bXcgBQOBkcHoD16VyNjpko8dXV7OTJILJYnccKXLknj1wFrb/tSAW6yF5BcA/6vadwPoKsaRbP585l/1mcsPQnrXPBuM1dHbiHB07IcYzXL6tquoNPLBooY3ET7QiRCRpCOvXgAdz7j1ruWg4PpXF+G4JrK5ub5biCMNckYYZLruOcHPAyTzVV25Wimc+FpczbaKMOpaydQWDUYiJndGMBQYEZIyUIPUE8g9hn1ro2SqOumZ9SsLuS4il8yRhGIxtKg9j+nNcT4k+KEFlqNxY2VkZJopTEXduDg4yMU8NdJxQsXBRkmdhqkMtzCv2KNpbpX/diNQWJ9s8D3J6Vzusy+IfD0cDa5arPabiPNXDMoPOGbvgkjoK3/AAnq9000T2ln57rvWclwoixgknPXOe1dH4jsLzXNP1O31VLMae0RCGNjvz7g/gc5/CsHfmc2zrp01ypROI02RftqzXFxCBLGTCN2ARkZxn6r+daFzf2du+2e5hjY9mcA1x3xCsI3/wCEe0jRj5uob3S3EYwpicLliR2+Un6ZrppvgxLJosT22oob3bl98fysfTPUf54rqdaNNLzOKVF1Jtg+u3FvfRWkNs88bSBtwPyKnGWPqfQV17axqsZ+zjSrWRH/AOWhmA2DOPmHfPbB+teF6Zq9/wCFvFY0i/kchJPLkiJLbGyMMtez2txpE9vLMt/bB85G8JuT8xUVH3R0UIK1rnNtLO2pX0dxEkQjcBQpyOVBI6kDBPYmrCCon1CLUry5ktxiNHMYJHLY45qZBW0X7qOWokpuxIPp+tFO2+mKKZNj01YtmrXfJ6wnn/tpWNe6vp9lqt89xeBB8gAjwxPHpg1Q+MlzJY28MEMpjkvNjMFOCVUvn8ORXDWMIdE3dT3r1KuiR5NKHMmmdNrPiaLVJobG1En2KVily8oAJQ8EDHT60S+EtS0aCWfTb8rYqu9vMxlB6jPGPpWB9nETk4wrHn6+tdtrATXvhTqSOA9xb27A7ucMoyrfljn61zzUaqtJHbQboawMRrY2Vrafa5/M+0SLOLreGTGMbcjpjr+NbOoMslvG8bh0JGGU5BrC8JJbal8I0S3iCSafcMkoHILbsk/iHB/OsVC9r88EhTB3EZ4P1HSpiuRcqHXi3UcnuUPEmoWen3E0t7cJEmxQMnk/e4A6nrXmfiLxSdQhENnAqRoysHl5Zseg7frWPr2pPrOu3t9KSV8whRnIVR2FI0QU7Ox5H1rup4dJXepzOrfY+nItFstV0vStY0+cW0uowLcSQAkAEgFiD9eory744abYW+tWlpZu0yxWiyPI4+Yu5JP0428V6N8D78ap4BttOkKmXT7mRVJ5IUrkfhlj+VebfGG9Go/EPWZcjasoiHoNihcfpXFRj/tc49rHVVk/YxT6lX4c+Nm8L+H7zSorRHe5lMpaUbxjaABj1yo5r1rXtB1rxzo3hyy082rIsbXE1xH8kMecBV6ckZYcDPHIFfPkMW6aNYlJkkYRooHLEnAwK+2vh/o66D4W06xT70UQ8wnnLk5Y/TOf0rrrx5GpdTCDvE4Lwf8AAjSNGuIL7Vr6e/u42D7VAjiz7jknHufwqp4k8HQ2mu3BADxSMXifOcgnJXPsf6GvbyiyrhxkdagutPtblNk0KMvoRXHWjKqrt6m1Gt7OWq0PGdC8KW2pastre2kdxaTo0cyOuQUwcc+xxj0NVdO+AtppHiyx1nRtWaWC2l3tbXKAt0PRx7+3417NY6RBYhxAMIx59fp9KvYCx4UYwOKzoxlCNmyq9SNSd4o+ZfjIz6f48sZ8+VLb20bqc9w7EY9atL4/uPGvijSNEgs1t7Ca7j3h8M7BWDdeg+6Py61ifGSZbr4jX5ViwTbEee6oMj+dZHwkYf8ACzdFZunngD8q7oUUo873ZMqzklHse/TQaje+PBDC1oPs4EjN5YOEAX5Txyxz1zxmvPfj5d7/ABZZW8qJNHZ2+TEwypZ/vcfQLXf2MkkXjSWR9wc3jYPqrfKPwxj8q8e+KV+NQ8a6xcDkLN5K8/3AE/XH61zYP320yqya5fQ4+yulTQ7/AEz+z7Jbed2cgKT5blcB09CMD8vrWpE1rdaNaaXFaQQW8AVnVRlpZAMF2Pfqfzrno82+YgSzZJ+pzmtCwleK6tWuGXlipAHr0/XFehVpP2Tszni1z6o0UsVRdqDaueQOO9et+JLnVrfxJb2emaiwD+SkPHywlj3H8XGDz646V5u6jYT6jNdzpt3/AGhrlhOed0kAPsQFH9K8um7Kx6WGgpSb7JkvxLimuPEllaq6mZIACN21QzHnr06CvO7jxEumLLZSl545VIkhA+Vhnoefaus8bXv23xFqE6nO6UxofYfKP0FeL6nd+fqVxNn5Gcop6AY4X9Kiac5tnNF8qR6FZfE2TSbaO0stKiFmq4MYdg2c5znJz1Ndx8Ftcj8S+NNejubcRxXdqjRxFt2xUOMD3O/J4HNeCQsJLeOZckbiGHtnFej/AAR1Aaf8RtNLHbHcb7dsd9ynb/49trOMEp3e5pKrOUXqet3CaSniKbTptWXyos5XLfMwz8npu4PH9a+f/DvjzUdE8QJqRt4tQkWIxEXDMflyMkc8Hj07mvZPFv2Kw+I1zdx2sCrC4LZXgsY8Fvr836Zr50eMHJHBzxj61asnodWMpSpxpyu/eimey3Pjrw74qhR3srvTdbZsbUw6S+gDcc+mcfjxWx8RvDMGjeAlv7Eul+lxE7u4/eZ6EE9uo6frXgU0n2XyyGKkHeW+lfTPxAvk1L4WQXsjgi6jtpVOMbiSG6VvBL4mjiu2uW55fpesana2I8+4+0SdRGQCq/U9T9KqWIGqavGNb5tpi0cuRkAMMBsD0OD+FZUOoeROU6xsDtHcHt/WtexaO4Xf154+lZNSvzME1sjXOjeJLLyLKG+Q20aGMEjBKnv06/5xWLqek/2Pe20NjcuLmNTNcShiCXc5CcdtuDj/AGsetfRsGj2mpWNrfoqoWiV/TJIB6fjXhfihI013U/KG0CZh07g4qp01CLfcr2qnZLoQrLbaokY1EvBJjHnxcfnUurW1t4RsP7duJ5L68YeVbBnLY4yck/dyuRz69KwJb1RJ5ABLMc8VhePL2doII/NJSQk7FU5OFwATkZBz/nNY04OL5ejKdS61OM15jfaxKbWyeGIReb5Y+bau0Nk/nXuHwoe0j0X7Fqlo0U9tAJ4JASVuYWJK4x1OcgL1I6e3CeFY4odU1JnafyTYMzEruIXau08g4AA4zx0FZcGpS2/h0RxahJCq3IYRb+WxH1A6jHGOvJ4wRk3JKS5F0sEW4Pn73IPiRZyXPim91G3+e2umxbOAB5gXaCFX0Gdv4HFbMuu3smgxw3MSiK1dj50Yw20PtBwQOMkjGM9fwh1aSO48I6FNMkzyxtJAx+6p284GR1wQM57dDWZeLFFKWEDSLHbzxs6qQu4mcAr93C8qeVH3T06EcY1I8slsF3CXNF7nZeDNT1nTdTa9ignNvcKuViUsm8KDu6EDIYc4rstTs/EPi+0uknV4FUbkcnbk4ICj1XP8Q4NXvhoLVfC1jJJMDtj2SSnCgkjPP4ED8KyvHfxLtbGC68O6C/mXS27h7wMNiL5ZOFI6tjAz2NcablenCOq6l1aMuaNSVR8u9u5x/hXxfo9jq9n9uly0TEFyhYLwR1/I8Zro9Y1efT/Ft7d6NqBuknhRmiZswjcvGAOwUg8EdeTxXgLNi4PPXmu18I35aNYpWyEOxc9h/nNethafsIOnD1OLEVPbT55HRX9kdT1WfU9S2PeSbSzKoAGAFHH0AFekfBq7aPxQYCo/fWzIF3cBgQf6GuAsmEpulOTxjrXV+BZ/sfi7SJMgHzhGSOnzfKf505XT8xdND0vUtInHi63McdoqSZc/IxA4J3Yz144/H0rlPihpU+j6xb6lYSvC1xGBIY8qC64BPtxt/Ku+1ydoPE1pOpwFZQx/2TkH+Zpfidp323wnOwT57fEyjr0zu/QmueE1UlJNbMijNylJN7HkFn8Q57OQw6kizoMAnGHHvx1qpoOqxpdFZIZWgaZ5FaPnbuJOMdxya43xIix3TbcD5CR2xx/9etTWNZj8KxiL7Et55/KkybNpGM9jnqPSuXFU1GtDl63PTwdTljJy6EniHxh9m1S3jtYQih22STuC24g4yueP8ivLdJjil8TW7SSxzxGQbiD1IOec8+tWPEEs2pWtzqU+xZhOiBYxgBGVuPw2D8zWHotymm6hFdPDHMsTBhExPzH8CMV00qPLFtPVo569f2k7vY+jJLvT/D01mVleMX6mOQAb9suF2kj045+orfvtRg/siQwzvdXHktgKvypx1JwP5mvDvAeoaj4q+J1tPcJvibzZTb5+QARMB/Svou10ixksxskZkkTGR3rz6sfYxUZvU9PDVPap8uyOG8Oadpt74s0eW21GF7iwtGiVUfcUOMAnBz3P516Qi3P2EW39qAXAk3eZlvu+/PTnrXz1a6ZfaT8a7hNFtJJ1hu8zJGpKiF8ZLegw2fqBXuINu9o29rtZAeYQ5AB/wqKlL2bS5riovnTurWZwPxl8Nae+p2OrSTP9oQrFI8Iw08hI2gfQBz16AVreGtDluNLtl1CFMpyXKgM+Dxk/zrN+ImmeI5NTs9b0q2gksLFN7QyuqAHOSSCQDxjoc1zOufFrXY7VbePSodOldMq7hmO0jhlBAH48irpxnOKjDUbq06Um5mrqes2ul/EKz0m2jicXA8q4yflEzkeWT6c4DEfwue4BHG6/4y1jw/4qu7XelzYq4eFZowrNC4DJkjHO1h+NcdJczS3DXUszvcu/mNIT8xbrnPrmuo+MBS/i0PXo1UfboCr7ehYYkP4L5uwf9c69OlRjGCi9Tya1d1akpLQ9X0a+h1XS7a+tifKnQMB1we4+oORRXkngTxymgaGbKeF5cSs6kHoCBx+efzorCVKSdkSsRG2p678WtWl1DxcIHP7u0SOJPfPzE/r+lZ15KLOzjkHBBGar+NnM3jLUD6TY/IYqPxBKP7Jc9/lx+Yr05bpHJR0hc2rO5juYwMjng5rpfDM6pJd6bKf3N9C0I543EHH9R+NeaaPdtgYb5l7Z6101veZCvG22WM7h68VjKPKzdSK/wVvf+JZ4t02Y4IQShT2I3K38l/Ko9WcQ2Fy/YRsf0ridG1aXwrq3iae4J8qSIqOeWy4ZTj6ZrU8O6D4x8cWv2mLyLLT5AdomYguv0ArCpVjDU6ZQlWlePVHkOmkNbuANxYHoehq/ZyefaruzvAx9DXYeIPAl5o2rLpzQYvHjMkYiyUkUDkKfUc8VwlkxhuJYmBBDdDXr4XEU8RC8Dzq1KVGVpHtH7Ompbdfu7UsFWaAsVJ/jQ/4E1wmvXn23Vr25LZ82Z5ST7kkVn+HtZl8O69HfWy5yjAj0LKVz+tVpZCVPPPU+1Z08LyYmdbukVOrzU4w7XO/+FXhWTV9Zttaml8q2sZg8abcmZ1Ocewr6YPiC4tYow6wOpGTsyNteJ/CXUI/7B02BpEX5XZjuAH3yMH8q9Wvrq2W1CtLHkjKgNndXhY7FVvbO3Q9nDYOm6UW+p3uiarFqEI8vKuvDKe3p9RWkxArzfwLfk38i5O5UCYPTGeo/OvQN28jrXXRm501JnBXpqnUcUWM8Zph5zQMBD1rC8bX1zpnhHWr2yIW5t7KaWPjOGVCQf0q3oZI+ePG/hrVdT+IWsfYLUunnljITtXkZ6/jWp8LPhzqVt47tbrVFWK3sx54KuDvcfdUfjz+Fdh4S1JXjS4vpkdpFB3tzuJHU1oeJbu3+yyJHdC3mCnLA7CB6g+1cTzKuununprAwta+vc7jUUtoo5Lm9QfuEM28jG3bznNfImo3TTXEjSNl2Jdz7k/8A669x8S+MftvwrtFW5jlup7INdSI3cDafpuPOPSvngzbxJKeNx4z6DpXs4GKd2jyqt46Mz76TytSgWM5ZyATnk1rlY2AUOUkzuAJyzEdOa5LWJZDdRyQq7OG+UKMnNdd4Pt7qXU7WC/uGCMckMVKuPQcD9D6111pqnFyfREUk5ySR6JoGmySpYPqVtLGl0pZCfYdwa64Q2lkqXFnG0bW7htrtzxzwO/4VzXhvUYLi61C51AyzxRP9ihGD8rA5+XAPqPSuj8QaVbwpBEtzdRvcqXjVoy0eT0UgA4/Ege9fFVFiZS9pCVvI+kpezprlsecarelLa8nLZESsFbPVsdf5V57b7WtBuAO7OQR1Ga2/E2oyf2ZNC8RheO4eGQZ43KRnHtWAshjtY9kTkbfvAcV61JucFKW55FVKE3FD9IlVBJEfuh2A/OtvRdRbTdXs7yE/PbTpMv4HNchZzHznIPVif1rv/h3Ype6mss4QrGNw3dsf1zxTxDVJc+4UE6j5T1L4mRSXuoatPZqXinQMj9AQUU968KuF8sEICQo5JHQ19Bf8I7cajbyKsy2ZkUhSEDMo7Eg8epx7e9c5eeBLCysbmP7Q/m8qxZsKWOcHb0ycV5cMXNScpxPXxP7+EIX+FWPDHbz7jMgztAwO1e16pqv2n4PeFYic5nZDg8jywygflj9K8NH7u+miZssj7dy+1dxaXjDwPp8TEt5GpzZx2DRx8fmGr27I8ROzYXSoFBx0YFWHcZ/z/LtU3h2SRpDAil33FVVRkn8Ko6tII7csHUIRuYbsZH94D+Yrd8DQxnxVCcb7YL5j5GRt2kH+dRJpQbKirySPf9K1z7H4VsLV1xcmBUO48D5QPx/CuE8VeGLu4hkuY7GTzJXaSSWMHAyc5IY59TwKv6FeBPEpubmOafZbqUYAsImYn5cDPYdQPXNdvqPiJIrciW0uFTJUvtyGx1IAySPfArznKtVXPfY7VCFO0bbnzOthPY6lJHMyyF1DLJu4K8881jfEKNPsVmzhSysy8g4xjJzjntXp2tNHq1jq0z27QT6fdFYAqcvGdpP4fOSD/wDXry3x4yzWVvvPyJMN2BuOMHP1/wA/WuyhNzs5bnNWgqbaQ3wldyS6Hr9utxgtYocvzkLnAPP93j/JrNkEsmkI0QEkYuFBUsy5JLjaMjGcAZIxwR6Gl8Iok13e2lxbb5pLCSMMmHyQTkr2J4xkc8cZrMZ0i06KNlaSRpDsVQy7mITqTx69MHjuDWnKlJicm4q/mdMNQ87wPIt3cbXhuwYkPzKVJwfpznBH/wBesWznE2oy/vwD9muFYsvojsR8xyCT/M49K7nw98NfEWr6MsU+nwW9nKxmDyyDduxgE45zg9DxXJahok2i6xc2t3AjNsl+VQOD5bEH+8QMEnqOlZ06sHJxT1LnCdk2tDrdB0TWda8LwQiaO30LTrUX13Cz/NKoMjDGOedp+mQfQV5VeSSzSvcSMDLIzM5xjJJya92+EsMd/wCEdahNwxY6XPE/Q4A34984c/lXgEzuFVc9TiuilGyMK0rv+uwQ/NISfpW1ojlWmAyPumsG2JNxtHJPQAV634H+Hj3emy3msNdW5lUNFHFHlsep/wAKqdeFBqVRkQozraQRS8JTlrfLMWABQk9Tz3rp7O4MF7FMn3g4dfqDWPH4aufD8s3mO72txJuid4zGw45BBqd2O5WjBJVtwA71SnCqueDugcJU/dmtT6it47TUpJZ3RJAGUqWJAAKg+o9Kvat5b6fKr7TGY2WQk8Yx/wDXrnvh1q1rNpCvc3MUQkgg2mSQKWIUg459q3/EF/bWuktMjxTFQSo3hh069elc8Ek2yKTUtFufIHi7C3UfmZXy5ACDnkVk6peNq1xqULHzPKSKaPucoNrj8dxY/wC5XuFpf2l354tdMjlL582RgDknk5K5yfpWdBosenTLdTCC2jVW2xNbqFIIII6ZGR7muCpjYuony7aHqRwklB6nimnwC40/VLeTgtbiSME/xK68/wDfJeuLkGyd8joa+rvG/hLQbb4b6rq1hp6RXn2FpY5kkYgFgAQMn3Ir5OmbcST16E16dJaXPPqLodT4E1m60fxDbfYdizXgFrvI5jDsoJX0Pv717x+z9pUtj4YOo61dzNDfvugt5GJVfmwCPdjk8e1fP3geCG78ZaJb3DMiS3UablGSCWAB/PFfXS2cFvqnh3SxbSf2YiMW2A7EaML5asfTr164rLEcuzW5dJy1s9jkpXHhHx5r19q0Mx0fVzG8N6imQRsg/wBW2B7nH0/LtNS1PSLbUILOaG5n1KSPzUht4S7svPXt2PXpVf4yWdtYeCJLeBI44pbpGCqoGCFJ/oKT4MwnWbrUvEF7cvNdPL5Sg4B8sDjIHbpwOMr3rz6lLmqXR1Ku40y1J4WvPERjfxEF0/RIyJBYLJuknI5HmsOAP9kZ+vGa0fEHh3TPEWnyWmrafbzQRqY4gUAMajptI+7xjpVf4p63bQWklnFNPDdngy267ygOc5HGela+lTLLo1vKGLb4wxY98gGtVT9mtDNTc5XkfE/jTTP7B8T6npq7ilrOyoW6leqk++MVZ1a6a++FlgJDn+z7026euHDyH/PtXZftG6XHaeKre/iGBfQ4f3dOM/kV/KvPI1Zvh3etk7RqkIxj/plJzXpU5cyTOapHlm0c7HJhfvYoqqhO3t+dFWYXPpPxQpPjjUlYc+ceazvE6PHpeFGRuGT6c1v+O4RbeN7g9FmVJF9+MH9Qay/FQDaT2A3A9a0fxImn/DMDSlJIOSDj862tRumstLkugBmMevNZemhVgDFlBJ7mjxfLu0J445AMjnB61NTZ2NI76nB3LXHiDxBbI5by55VRlz2JGfyr6k8MvqVlCYGtoY4lizDhtxbHAJ9K+VPD9/8AYPEVgAFm/fqh2n1IB/ma+nrSQTzBlvYY1RAoSVTn3HBHFeZW0ikz18Ik07HG/Ge51WzTQtVljS3nhu2iYIwPysPve3T9a8X8ZWMdl4llaGQvHcKJwcYIz1/lXrXxm10T7NCiWR3kRJfOZcKwBPA/ED9K8j1e5e7VVm3ebAoVcrgkcfp1roytuNRJeZyY9JpmfIxZOSAeBn8anYgQ4BzVOQttIIIYdqeI5vs7PsPTmvoG0jyFdnqvwbMN/prQSs48qVl/dkg4OCOfxP5V67Fp9tdWux4LgvbZBLPj+I9OcmvIP2e7N7vVdVhQBVht1nMbEDd82Dk9uCa9o8MLY3lw0OkWdvNODkMCp8v3JGa+exuFbqOXc93CYlKCXY2PB0JW8acjahcKqjtz/wDWr0CJ8uAfSvAdc+I6+FPF95pkNr9t0+12IzK+1vNGfMYHB7nGP9mu/wDDnxL8P60sZhvUt5TwYrkiNvzzg/ga3pUJQppHHWqqpNyPRw/yEk1keI4ZL7SLy2iIzLCyY65B6j8RkVYhukaFnZSVxkVwniz4peHPDqSGa8S5uVBAtbQiR8+56L+JzUtN6Exdnc4/w7ZWFolwjW/71BtXPQ4GAMdsDit54rS4s/Ikso1ZosKGIJHAzwPX/wDXXmfg3xRL4nudevYbILAtwsstmH3NHG3VhkDIyDn0J9Dx6HpS/wBo2txHplu9pHDG0k07AL5ahT0461w1aMk+XqevRr03DnfQ8y8Xa3b3Xh7VYrRREEuFslAxghcZI+oDV5xaC5v5BDbL+6A+aQjgVqeCr7QLmG4sPE63yo8wkEkDfLgAjDd+56V3mreGLS4tIT8Pf9OiUES20Um5o/Q/Mc8162GrQov2MU9evQ8utB1E6zfy6nHW9paacDkqZSOZH7+wrFv9cOl3CxwokhRshCSfyqbS4NV8R+Jf7BtBHDch2SVrvhISv3txAJGK9Y0L4Bf2csdxrGppd3UjY8mCLaD9Gb6f3a6a9WnTi4y1uc0FKTTjoWfgrr0d1oV/JbjdKJy5jbG5cjjj147+lelLqVyyAyqTHjBLqAB9eTzXI6T4S07w5J5mi2N9bPcsGkmlOUf5SQoJwSR14GOcHkVtTzTTR4nmeVF/hUZr52pGMXaJ7dGftI3kfO3j6Zby+1O4iKiJrpygB+983J/SuZjuyumrH55iJ4UjA/Ak9K95174W2GtW7Np92bGW4zNBlvMiZS20KQACGz1xkAnFea+I/hdrvheB59Wsre905SCLq3kDqoPqM5HPtj3rtp8igkefW5vaO/U89slkhkaOUEMDnk5zmut8Ia7PpGrxbUeRJW27VGSpGcHHp61zmrW627pJbKFhVRkAdCTVnwrdKPE2kBppYQbmMF4lLMoLAEgDkn271rUgqkDKnLkmj650GO7BEkrxrDIvDbsk/mK4D4z2d2nhCa7+2K7xSrM3k/LuVTxnJ5Iz+da2k6n9nt44dSnG+DMbyEZidlOCQe3IJx1rL8fxJ4m0qbSbUF5rxNtu7v5e+YEFFAPYkYzxyR25rx4XVRJ9z3KkE4NrsfNljNkvdSS7U34KEcN9K73Q4Hl8GXt6ceT/AGjAgAOQoKSZ/wDZa53+yLrR0dbu3niuICY5ozHtAIOMNn6V6F4eszH8KNVklDCa6kS6UEgrhD/CBz90c/8A1jXvQpuTeh4V7GTeNDNpjwy8bgV49xXQfCC4We5kVxtLWu3fwT1/xxXKyAS2+UHbPFWvBeoyeHtVW4mDCFhsZgM7AT97HfHpWcsHVr0pezjcqFaMJpyZ7boOr2kPiuTTgNs32ZXLMnyN83Y/U12cpkiDSXCRLbAE5MmVH0GK8b8Pa3Zy+KNOtX2yCdWDleVXeSVH16cep7Yr0DxTHBo+hXd7K7mOGM7EdyV3HgcfU157wlSCUWtXt5npRrQkr9jBj1Oz1az1O/toSR8wUdDMMYJI7gjB+nFeH+LhnT4lLJueYsd3f5SMD8811Oj+KLeKO4tvKdYvOVhsU52BQCPqefYZ61z99qM8NzDd2yXMcpkO0QsY2QHgDcOgJIB57963pYGvh5Sc4uxjKrSrtLmSMXwpJIvigOlwoZVmf51Jz1IAGB1P07+1anwr0htX8T2l5dK0kNu7mTgZDbPl68Yz/L8q1jNc3/iBNUn+zXLIB5yyz7vMyp4bcMnhh2I49q6P4fTT6FdXpX7LIsroxt4RIzKAwGQ20g4DHjI4zmis3yNo1hh3zK13FN62Z9F6fPcJYurwRw7U/dpv3ce/H+NeF/GjTmXWrLUljNtcNb3CTfvAU/1ZKgdDk5b6jtXq63FtcQ+cZoG4yd5wwPv9K8s+JGutNdpshaS0iJQSvaLN5zYA4DqQOp9+tcNKS51yo63QU04uVr99jjY/F+q+GvBuntp0cAS9iuLKXzEz8u4cgcYPvz0rzWQ5ZTngDNdR40ura5tYUihgSdJSGKHB6c8Bivp0Fcuw3YUdWr1qa908fGQdOpy3T22d0dH8ObW3n8S2qXWNrZbk46c/yB/OvrvS9UtIbeIM6rv+VBjqa+PvB2ur4f8AE1pM5BtXPk3ORn92xGcfTr+FfVVjFanTEvx9nlk2qYZxyCD0/nXnY+neak0duXyXK43Knj27t9S0y9t4vnmtwXIIxjHWvII3Zm+UjIBx7mvbNYkW/wBB1ZZwsUwt5HbCkADaccnrzXgcN75SO0gyoBJx1x9K3y6D5JLzMswa5o+h7N4HlkPhWwe7VFlWMghCSOGPTPauj+Il43/CEmSP5JTaBEbIHOBwCa43wbqEEvhe0kDhY1jLNu+XaMk856cGpfFfxA8JXegjTpdSSbMKqUhDMwOMYG0E5yAaMPTbqVF3PEwTarSb/rU0/hnOLfw7pwtrHzllUs8ylQq8nr3z7VP8RLa51LQdRU24iaJd0UiHJbnpx6j+dYXgTUxe6KqMxtwshRSEZUYdmK9QSOT757VpeLNTOj6NcT2ubm7VcoqKSoYng4/ix1/CvMlGz5fM+xjSdk2uhj6x4k0c/AXUdNGqWQ1D7O0Jtjcgy7hJ025zn2xXyu33R7mvQL8QXOnaixO4/M2GADbsE/UA46fXNcA0bbee3Ne3RsoKJ4FdNSPSPgHpK6p8SbN3GVsoJLraR1Iwo/Vgfwr6xm1Wz021uJtU2JbIgaUuPuDt0/Gvmr9me6hj8W38L48+W1+TI7Bhn+Yr6C1KKD7bCLvYLSZWgkBUkOrqRtwB64rCpZ1PeKpfAcV8Ydb/ALS0TRpbactY3DyvEJYyNyrtUHnBIO411vwRtxpvgyG4kwZbl3cgHooZlGeenBrwz4ttFpU2laGs08h04zIJJtxwrbGVQx64XA9q9U+GniaKLw7o+naHYNfarMP9IXOwxIXOHZjn5Oe3uap0tbkye0Wdd470bTvFNnPGymO8KhUmYZC85zj9fwqzpJFvotvFvDrFGED44bAxmreqRpJI8KOGlxhueme9UrueGwtPL2hURQAQeOnFTNJ2iioNrU8A/aVmD32iKGBGJjxnH8H+FeeaNCLn4ba6q8tbTC5I5z9+FAfTjc3vyPfGl8bNdi1jxeotphJDaxiJgpyokyS2P0z9Pao/hyBN4R8YQkrlrXKqTycRyucDuf3Sn8K6qUeVJGNWV5nmgIGQc8HsKK6IaBAbe2lXU7JTNGJCks8ashJPGAx9O+D7UVrYx5Weya1pcOn3pntri5nSWcnfPN5pJwOQc5xkHrWjqcX2jR36Z2hunpzWVrUZS2ilVmIRx95ietb+nok2mZboy8jrXLh6zq01J7pm9Wl7OXKcxZrNK0cMK75GIVVAycmvV7X4eaVJbqblDcllDHexx2PAGB3rl/hTp7S6xczSRBvs37sZHc9SD64/nXtUAVLYMT+OOarEVZRdojpU1JXZ4d4i+HGnWOtrqdtEsaghUhVAoVuMH0wACRgde9dqunxy3Cthc/ebPRcetaGs67oFzPd2l1qFkbm3B327TKrj5c4AJ64rndD8Raa2tWGi/wBp2+o3l7MdtvZ4cQKMk75Oh4B9+PevPnOU76Ho0OWkld7nV+IPBmk+INCtV1SJ/MiBkjmibY6FuuD9OxyK8l8TfAbUEmku9C1SO5XbxBcr5b49N44J/AV9E3qbrYr03EKPzqhdSk2MjSswhRSzkcEgdhVUZzpPmgznqqNRPmPia9sJ7DV306/hMN3C4SRG5I/x7VZuolTCDBJHpUusamNV8VX9+y7RNcO8YPVVzwPyxUbFsPI3BI49hX0sbuKb3PK8key/AfSbbT/BfiTxJf48gHymBGSyouSMdDksBV7wLa6XpXhrVPFs0UkV3ZofsoEzEKz52LjODjKjPpXYfDvw1C3wr0vSdRDiC6QXMyqdpfcdyg8dMbfyrjfja9hoVhYeHtHTyoGP22ZS2cnG1Pw+9XPCs5c1Nbt/gi500mpPoePavcLdRMpjmkvpJdzTNINoB65GMk55zn8KiWZfL2IegHNRCVkjklYAknIFZyySGOZ04wM4z1PTH04rsjGy1Mm+iNNPFeqtpkumRaldLYhsmESkIc8dM9PasyfeF+Y49TWVKhWUsn3ZUzx9OtaWkXYubfy5vvr8pz3ry5p35jqi+h0vwh1yfQviFYzROii9VrNy4+TLjClh6B9pPtXr8Wt6jo/gXxjDd3EDNFE0Enl5w80jmMsuegHTA46dMV4B5BimUx9FO5cdsV6H4muZbjwXozRHyLabK7N2TKVxvY+vzAc+wHOOJbTWoWeyOItbGNIVvRcwl2co1uN29f8AaPGMfQ1at76axkW4t5pIZwx8t42KsD9RUWzCkgcDis2+nxdBANyxLkqO5Of/AK1Qo8zLvZHq37Otl/bXjTUr648yQwxSNI+7hzI2CG9SVL/iK9u0+71CHTdRUz3s0UNzuiLQES8EcFTyR1546g8muB/Z18Nn/hB9QafNtdas5JfoxhGANv5uc+4616dqltqNnrPnWs260hstrhk3uzqT82AOT14A64orSc3zCpvlfI0rPuR2MEX/AAj1onkmGZpcSAMMh13EknPfJ6djTb3T5rpXjsWW2kOGDLk/MvOeBnqKy/iDqmpWHw8j1vT5lQMsEqgoMoxdd31yCRz7+1UvhN41u/F+rX/n2cEFrZ24LEEn96x67uwwrf4muCVOo5rsdntIwi5Lc7LSdNW1ee7uYYhNJHuciTzAwIBOAeihicYx0rlfiLpc03grUoZJo4kW0kjWQ5ONi7i2OeOCpzyM9a6yO7luvEDwSyeUlsrOxKABlyrK2ckY59jxVdpYL+6lt/NDtKhMqsEBjGSCG+bcAeMYH1JzXUoq1zl55xf4nxZYwvqDm2BG11+ZiOg9a9g+CPgOyttcn13UvKWw0mLzTPMfl8zBwcnpt5bj0HrXnmkaZJY6tq0ZDBra5ktkJ77Tz+YI5ruNI0jUdf8ADrJBO8tpDKwe0FwAGcBcExE/MSCOx6Gvew+Fi6HNJ25uvkcU6jU7LobGk+KPDc0r2N1eSQtI+9DPCQp3cryMgfKQefWqnjDxItjrKWWkiOee1QytIMELIilgFxyenIB/lxjan4Umc2DR2V5BepH5L7YSQSrFQMEf3dgq34f8FX1v9suE064MrII1lmhKgbz1y2AOAcsf61nDKMHB+0lK/k31OqWaYqUvdik/Jf5ml4o8Q6N4stbXVkilsNfKiO6snQ7ZeMb1YDHHocHH058z8Ranq8erWmn2l55OnXOLdhtU7BnDAceleiS+HUsrea/1C/jVo0IVIYmmC4/2gNvPsxrzLxEhOgNcMf3kb7g397Jxn68/pXe6dKpSkqbuonFJVKclzrcXSbwvb20shAXA4x19c10qJFdRIy4+YZ4rjdGbdp8LPj7gH6Vd0zVVt5DDIvKthTXbhMPyUIpHLVq++7nVWMX2K5jniJWWNw6kdiDkGuq8YeMLvxLZQ2c0EMMKN5jhM/Mce56VwrXs7LujKstMg1be21tgPTI7054SNSaqSV2ti44hxTinozUECBcKNq+oGM1m3TeY7wRopThSzNj8BjmnXOqxpCQpO4/nVDS2Z90zM5MrZVQRjHT6/rWkqTcWmTzq6sdZefD2+061a81bUvNZyIg8UjsGYKcli3OcjA7fSu/+Gmk2zeGZQLRRMshDy8M7cAg5rWhtpNa+F+xMSXQg8xCeMyLz+GTkfjXO/DnXbbTpJ03h9OuBkSqQ21lwvbtyBjr0/H85qxc6cov4kz6pV5xklzPl9TpbrQBJKv7kbz1OOD71Q8caaIPAtxtwixum7bxu+cL/AFr0K0NvPD5kcsci7QQVYHg//rFec/E3V7a50qLS7GVZt7b3aNsg47ccnOc8egrkoxcqkXbY0q1k4tXOG8F+FdP8TXV3ZalbLLa/Yy0UqqwMbZGNrEnkbs4rxDVNOfTNYvbGTBktp3gLdAdpxmvqX4K28a6drUhC/aPtPlnBBwoHsfUn07fWvPvjwtrbaJHbrb2yzvqBlDKo3sCMt7nJbn6CvRhWf1lw6M4vYKVDme6PE/7IkkmLGRWwN2BwTX0z8Lb+O58A6a4ieUWYFtdRqcsrD7rY67SpH45ryHw34U1nVbMX2kadLc28eUk2AcYAJABPJ5HA9a9P/Z7vray8VanZ6hJFb201oS4mYIN6sMA574Zq7a0Yzi0uhzQvTakei2D6dfxywXdusGmGJluHlO0bSMYyenGec9q+V7qOSy1a6htLw3FnHI6xyHneoJwR9a+sPiho1q3w51NNJU3Utw0TxLF+8Z/3qnjHUAenYV4j4b+HOpXF8914hsJ7fToYJJBGD+9lfadoVQc5HXn0x3rClVp4eN5uxvKDrSvFXOB0iN5dWktVvJoI9QJ+0JG5XeoGce3p+NeiaN4c0nToFlsbOKNwPvkZb3+Y8155pzta3iSOjxywtskjcEMOxGD0NelWbrLDayRyK0DtklT7V5OdurzqztFo+r4Zo4Z05Oy9on87eR1XgO3+1agsIKoZxhcngntn9a7jUfCFzLpt35qHcsTMp45I5Fee6fctp2oQTRcbHEin3BzX0ZazR3djHPEQY5UDD6EVz5alWg4S6GWf16uFrxqw2f5o+YzbC1kPmKj2z9VK52H/AArlvG3hTRp9E1jVooit7BBlUjO1M/3sDvXouvWottVu7bHEcrKOO2eP0rkdV086jp2oWyO4a5R4R8xABx8vTtnGa4cLVlh6+r62PbxdCGNwrlbW10eJeE9bk8OeJdO1SPcfIkyyj+JSMMPyJr7N0u8s/Eeh291E/nRvsmRlOCcEEHPY8V8ceEbHSrjxbbWXimWa2sN7RzNH95WAOOxx82AeK+ndA0m20G1sItN82XRoVcBCQw3buHcYGe+e3Q/T6TG03JRnHdHwWCnyylTZyP7TdoZptAkRwIyk5VlO4t9zOcdK734IRLD8P9Luiw8143ifBwXCSuF5+h707xJZaN4nsBHqdpHKYs7GLFDHnGcMvI6D24rJurP/AIRfS9NutAjmaK2jaI6eJTK0iM+/chP8eST7gkemJhiXUjyxWprPBuMuab0O/wBQvUtlaaYqGxtVQO3pXk3xU1bWbjwzc3emny4A+zzA3zLgEnH5dTVy/tPE3iwrHb3MGlKwUz5IkmRT2K5+U4xx79fXU17w0tn8Pb3SosNtj3krkl9vLtj3HbsTW+HoSp+9Uepz168JNQpr5nyIzlmBJyfeu9+Eam5uNas1PzS2zBQTwSyvCB+JmGPevPJ8x3TRtwVbBz9a7n4QXq2fjEh2VVkiZ8tnA8plmz/5Crs6nBfU4RuuOePSitXXNJvLXXNStorWYiC5kiOxSQCrEY4oosNpXPe7+IyaYy54259ah8J3MUYdNSuC6KSBGoK/Tpz6d+9aZgJVlYfKRjFZ+had5vjfT7OWbyrSUMzrjdv29q+dwtWfP7NPRnuSUIvnkrnqPw60oaX4fnuZI2SSaSScq5JIB+719sVr6vqsdhoN1qEvMdrbtKVz12rnFXNQgjtNIm+zBl3LzzwfwrzX4u6l9k+GN9skCtciOJO+dzgnp/sg16aXMedOTV2fPWpXkuoX1xdXTB5Z5Gkc+pJya9U/Zs0pLjxjc3pRQllbErgcB3O0fpurxdUuW5VoiPbIr6B/Zfcpp3iFm5nWWEPjn5cNj9c1tUilB2M6LvI94vp9tq5wdwHH1riPixqI0f4c6g8TlJZ1FuhXgktx1+mTXUow1FcgyJGhyflwTivE/wBpXXmjj0jSIizW7s08oHJYjAUfq1Y4anz1FE0rS5YM8L8zF2kecEA9uK27e3e/1awsYRlp5FQD1JNYcqo7wzwoEXJVuMY6f/Xrtfh0vmeKorgcG0ieYN/cKqSp/wC+9gr6S11ZHmp2ep9Z22veHrBbWwi1K1eUKsEcMLCR8gYAwoJr5h+JmtnxB4y1O5Vv3XmmOPB/gXhfzxn8a6vwVILK51jWRtA0qynuUyOr7dqD8yK8jtXYglidxJJJ7ms6eFjRqNJ3E6rqK4XbBIGJ7Cs6zImtZ2U5EhIIz0xT9RkM0qW6Ejefmb0FMvLEWUKzQqhdBzlRz7/Wt2SZ8Tk2O11DNF6nGV+tU9NmK3LkfKd2cA5qVZfKQKcsNuABgA/UmqcVvPb3IkCKgPOwnqK8rbQ6vM7GNhLFuHXtV/8AtprrR7XTtqg2s0jo2Bn5wmVP0Kk/jWNZOAq4+6wyB6Uklr+8eUTNGd2cg8AYrPkRd3uXrqZYIGJOMDjmuZhuN91KQC2V5AOM/j2qTWLphDs3MwPO5hjNU9JRiXcsVdvuqw4I9ferSUSW2z7D+GEmr2/g3Q7RbaOTzrWGQSeZsaHP3TtwS2AQQOnA/Do7S9W71y2tr+doLhQJWCqqqysjZLbu2V2njdk88GvP/hT43kvPD+lw2trO91HCtpc3Azti2IRlgRyADuwDngeuK9Qk0M6xdRSTW1tMkK5gncHDIw2lc/eDjB/P1rmlF3sdV0tdNjjfjpq8cHgDUYAxZTexW4WP75b75O0dsAAfnnmuH/Z9a6S41K5NrLHpxKCaaTOBt3HqOvXp/hXVfFbwrd3vha7M7zf2rBcGWF5FBa4CggICvYqeD6rzitPwnbaXpPh/S7DSZme+jBa4k3MxEwwpDBQQASWOCwI54wWo5U9yV+7bUNTv7qaC8kaK32JK0YCsjEYXrzjHQrt9RXJ39tFb6kl9dXWyW9gcESHIYIF+YBRxtIBHPGM84414dBSYSJHGBvQiKcqFTcwJdgFIYZJySDzn2qy98lrGljNDA1zBD58ewKqhQQCVBycc4z71EmgpuUJNU9TwPx1BbQ+Kr9raQSW8pWUOT97coyfzGawfDDab/a1+dWuLq3zs2tDGrg4BySCRz07+tVtc1u48U63rN/B9meOS7ZeT8gjX5V2jrggVhXn2jTr5VdUnB+8sb5bHpg8mvssJBPDRjfojxq82qraR9efC/wCxv4QgOn3T3UKSOBLLFsY55xjJ6Zp/xQaKHwqbmd2jW1uI5AyRLITzj7rcd+9cv+z3dWb+Brgm4CxJePjzDsK/KuQc/Wtj4saro8/gXVbePU7Frlo1KIs6lmIYcAZ5rwp0rYlx8zsjP3OY8V8ceOTfaTJZ/btWkjmwjb5kjiC7hnMaLyMds/nXnevTrJoV6ApEXlYBYYJOQf8AD86i1rdPqNrAis6cMwXsM9aueLoxDoFynfy8j/voH+lfQ+xhRpSjE4XUlUkpMxdJ+bTUVWwNgG5RnPHv0NVJoFN1jzU8zA4ZtvPqc0vh9Wv/ACIZJSox0j4xx61v2+jeXc+aqpc5H8XBH5k11U5JQj6GMotsq2ui30qLIL4kH/nm3FJd6LOY1NzP5QQE73YY7elagfymJgVY26Mg4BpUzMw3ktt52vzgmq5ne41FM5K6P7sxC/aVo+VKo2PocgfnXT6PJH5SRtDIRGoBcYxVm80kXkZWbcq4yGGOPwqOWI20P+iS5ZR91lA3fiB/SpclYFF3Pf8A4UXCT+CyFO5EeRR9Ov8AWvDdN1KKza4jMrMElKiGZFCpluR79OnvmvXPgvcM/gq5llDD98+dwxngf5/CvF9V0uKXULoziR4nnkkbysq6AksQQeoz3B9enWvhUo/W6y6XPoql/YU2ehQ62putGMDu7NZmVkjbBQRyOQT24CngdemK5afWoyZ57dY2gjJIeUBgSo9M4LDB6eoJqfSdV8O6Vp5tcxO6q0QuBuOEbO4bSO4aTn69fu1hXMdjqm03F9HLtCiKJRtQegA7nAHJ9uB0q4QineMTBylazZ6v+z5Itxouq3ScJPcZ25zj5RXlv7Rlw58YWyAgR28Q/wDHjz/IV6r8FbZ7Ozv1hTFkzKykKAoOMYGOuMcn15715H8bHF54u1Eo2Qm1A3X+EZ/WvOo2ljWl0O6o+XCfcYlneSwJGUmkRFBDKjHrwQePoKkF7GikkFe53DBrhLW7uI5MFpGX0U11vw8sV8Q+NdL06ZH+zzTASBjkkV7lopXseb7R7HtPw8+IenaX4ICXxmMkNw8UKJEWLLgN16dSe9UNc+L+okMLWzjiU5CM6mQj3wBjP516b4o+EY1XR7eLTr97OW2R0htyiiE57FQOOQOe1eD+NfAXi7wtpst3f6ez2kbBZJ42BVSTgYCknacjkge4rz4YWhOblJas6/rM4xUUzmtT1YalfSXd9PI9zI255GGCT0/lXT+FL5W0af5yyxTZB7AED/65ry6S5vy+yR2VD1ByePxr03wzY2h01bWPzEXqzgZYtjnNYZu4RoqnY+h4UoVKuLdZvSK176neW1zHdQjYfmxxmvafh7f/AGrwrakMd0RaNh1wQeB+or51ttOvrP57aQzovO3OCR9K9i+D+qW8Wm6nHqE6W8aSJIGmfYAWBHOfpXiZdGMa1ovc9zifCxeE9pF3s0/0/UxfiVJ9n8S3Em3Z5iq+OnbH9K4Cy1LEkoTacuSAxII/IGvQvistprOpWsmnXsE0Hk7HeFwwBBPccVxAtba1ttsa425Oc81yYyUIV5R63O7KJwlgad97HmGoaNaax8UZ7OOU2tvKhnZ1XcUIi3Nx9Qfzq34L+KN/oawpqUUmo2kKmMIZyjFew7g4+nc11+n6dZrHf63LboLxYZYvNBIKgqw6Zx0GOleEwPmNgf8A9dfW01elHm3sfmmKcfrNX2e13b7z2K8+MloJpvselTxW7Y2hpeTx0JHI5yMg9MZFa3w9+L+hRfaDr0EtlMzZSWNfNXb6YA4P0HNeEXKqykjvVS1HXnGPanGlCOqRnUxFSa5ZM+srH4keCLW8uL+LXpA91hpo0spSrEDAIBXIOAO9ZevfHDw7Ebs2Nnf3peLylVkWNDnOckknB44wa+ct22BVT05NRtgRdfmPaqavuZp21RRvpjPeSTN9523H6nmtPRdTOj69aX/lecsLZaLdt3qRgjODjIJFY0n+sOfWp5+Wj+gq2Z7nsXhzxFd61bXN05ihzcNhGmkOMgMT94DlmJ4A6mivHZWdGwpIGO1FNSE4ybvc+n/NaUHGcjirnh+KFfEVpcXA+e3V2jwf4sd/wzVCFHWDMuFbrisnxL5jaPclNyOFyrISpH0Ir5OhJxqxfmfQVUuRnu51P7TbEwFCsZxIjDIYDqK8H/aG16GOPStIt2UE5uWQfwqBtT+b/lWn4R8TR+G77TtGvr9Lq/uUCzQkkmNz0DN03c885zmq3jQaX4b8eXGryWzXt7JbqIzJtlFu6gggKeANpU857+te3TUqdRqWvY4aihUpqUPmeGG5uuscWV9iDX0b+zhoeoWml6lfTOIn1COJ0i28qoL4b8c/56Vu6PbaFqng+w1TXdA0yKe4i81lNqi9zg9OMjB/GmaR8SfDNhLNGl9bWpVViijjjbYFXPcDAolWdW8EgWHVJc7keoxkW9qxIZiMk5HINfMfx+lFzrlnepIVYKYNhGAQpJz9fmx+VeyDxrb66q2mg6lYXF7ICQiOrMB6lc544r58+JV1NH43Ta51ZLUbZxIMKZMksBg/Tp3FdOCg4zuzlxErpJHOr5j2TGSLaq/MAO9d78PrE2fhXxDrLDiQw2UR9fmDt/6Cn5mvTINT8J6rZLp1t4d01LNol2uYQJW3D724YI6+uf5Vw3jDw/4m8MaKthot5/augxzebJaC3UTRHqMlRlhz1/pXoUcwpOqqctNTKrgaype0S3Rd0uL/AItn4xuD97yrdCfZpef5V5GsknzrEMszcewrsPDD+JfEq6lpejIsWmXOxLnzANqhTkEnrnPYf/Xr1Tw98P8Awzo2lNba3ZpcCY5n1AOyyxHsw5wFHpj65rbFY6lSrOF9WZUMHVnT50tEeC2VsYoQ9wA0x6j8az/EVxIlnKMbV2/KQf0NdR4ssVstdu7HTLy2u7aFtsd2Gyrj1AB/+tXIanpirEzzTySyYzuJwPwFbXXLoZa7nO6bMgnErMd6twuOK6F2+2Q5Kjev3SpyD7Vg2lhI0/yg7GYYbHT3Ne6Q/DKG7s7d/Dt6Lj90C0rOCsrEc4AA24ORg56V5E5qKuzspwlN2R5NbyYiGPmHYg5pZtSYDasTu2egFdzp3wq1FvEYttWjubG1wZHmUh48AjgYOMknGM/yr03w18KPD+iXdtq1xfvIIHWWMyYjTcDkZznP0rKWMprbU3hg6rV3ofOc2l317ODPGYGGDtkXp+FaN1aNAqAnJUHnGBivY/ibrHhS7mlt7ZpJrhFylzbL5iI+ckMc5KnvjPJBrxS5uJNX1C2sY08iKWVYjNMdoQE8k+g781cJudpsznBQfKtWe4/ATwzq8OhSak1+i6fqEgeKz+YOWRiCwPABIGOM5HUcDH0VNr9lpmlQ3M0yvFIAIx/E5NeWWnivR9K0m3sdKt/tYtoUjikZCgXaAOM4IztHQe+TmuM8aeIdU1xi0cyWQXJQQRoGGRj75G7OM8gjqa56mKhF6s9jB8P4zFW920fPQ9c8aTarrmhTDRLqKCdypR3XeEHfaB1P1BqXT7OKOO1li06zS8SNhO/lFVeQ9WC8HBJYnPPNeF+C/iXd6LN/ZOvtJND0S6A3Mo/2u5+vX616rpvjLS3tUdLnzE/v8kk+h/zj0rkc6mrudFbK6lGTpqL000uelaTqpnPkXscaT4O0oflf8+h9q8F+P2qX+nW00GmPLHAytazSkYO1juCqe2cYJ9u5Oa6pvF2mf2lCLjULm2Ebbllt1DIT6NuXP5D86teKNK0fxJpt2gm+3afcjz94O4IQ27axzkZOcDjrjtW9KrzJOZ59fBVMLduLSa00PkLw3qQs7iRH3byflXOA/PQ+teg+GI/tkc8l1JIJGONzfNgHsBwKo/BP4YT+PNRuJbmVoNLtH2zTAZZ2P8K9s9/bivqWH4U6GNPtLVpr5zbnKyvKGc9OCSDkcdO3avdlmU6dD2VP4unkebg6VBYhTxSbh1SPmzXfC+pWca3sUU1xZO+N625Uqfz5/DNPuNKvlsVSTTtTt5VBG77G+cZ4J+Xn+tfSWraHd2MiRkp/ZMZ3FkGWbHZhjAHv39qo24jS43adCu+Q4wSSD9AM+o7VwQ4ixVJKnUgm+/8Awx1VMtw9aTqUnZPoun3nz7oXhiRQ93qbyNNL/q90ezaB7dj9Olcz4tureEXlreXgZmUoqA7m3fhwOa+wL7wdPrEMaahcxwx5yyRx7mx7E9D74NcF41/Z+0K90t10GSWyvFO9DMxkRmHrnkfUflXThs2xFqjxHXbTYzxlHByhTjh42kt9d/8AgnyZo7TwXmYfuFtpFeq+BY7LV9YhsJb2OAHBYswDfRc9T/KsvxV8N73w4tj5l4vmSP5Uqrnly0nK8dAqc571veHvCljbwjNuZ5SOWf5j/wDWr1cHiHVwrjGVntc8ydPkqptXR69YfDnwq1088sctwSu3Y8x2/wC98uOf0q43hbwXoiy3z6fbqirkkl5AcDspJB/KuE0/xCdDtWtDcbYUh8uOIkZjYHIbGCT6YPaum0jX9V8T2r/2XZiWBhtd2UqmejAbsZHoOSPWvCxFHFxl79XT/FY9Wm6DV1G3yPKPHviHQLbVVm0Us9jcdUSNh5Z74yMYPoDxXE6zcGULLpc8ojc7SAOAfx5Fez+JvDV3YWx/tGxUwNwWwHX8f/r15zqOn2kVvKtsvlNg4x2/+tX02Fqw9klGXMl1PIrU5OTdrHSfA/xfBp0j6PqFyAJvmjMowGY9QD079K73xF4EtbwyXmj4WRzvMGQVJ9VJ+6fbgVkeFfCWn32iW4uoV8oxr5aY5CgDBPua7TRtGfTAFsr2YxqMCOU7h+dfn2KqqNd1KTs76n0dCPPSUKqPENRs7bTdSSzu9Ojgmmj2MkqlGZueOCM53ccc5+tGgR3Osa3a6ZZ6dHDMSpcxx7jGo6szZzjBIycnj1r3m9hgv7qKLVLa3dkUsqyoHBx1K5HTFXtPj0nSI9Ru49OiWecAySQr8xx/kdMZ966IZi5xs1ZmM8Fyu6d0c94r1mw8D+FmJG4xqdsY+9Ix/wASa+Y/EGpPfW097f7Uvrl3kMXTbzwMe1fUV/oVrqs4udThW5wcrHKNyrx6d68++K/gfSLzw7d3ltbQ213bRmRXRQpOBnGe4471ll1enTk3L4n1KxtOc0ox2R86WFjLdbiGEar/ABk4A+pr1v4AQxw+LF1G7cNbWKsUcRsdzkEYHHOM5z9K2/h38OLR9OgvNdiMgYBoLQnCqvXc/qT6V6OtpHZQ+XYwwQqowq7QB+WB/OvQr5hG7hBXOSnhW1dnfSeN9OWLI80t1A2Yz+dc98QvEVvqnhDVrS3jlke4tpFRdoOWK8friuahv3aVkKoxXqAQMfhuNTy3kcS7hIiKOwXd/I1yrEzT2N/YRPlnUbLVYSPP0ueGNyV3MpGfoTWv4evb+yYIyy7DgDAw344r6KWdb0bWglljPeZAFP4Gq154U0m8Bl+xx21wASs0ACMD744P0NLE4uNWPLUid2V1p4GsqkJadUed6TqkVxLtuPNyowcyMhH5V6r4a0DSrzTnju83ySbXkjkkyg7qPfGc81474vkj0OxlS8jja/MhijPUMP7w9BjBx74qh4S8davpVzADdC5s1Pz20qjaw78gZ/n9K4cNhHNuotLaH0efZpRlGNOm3qk36HqnjaPQvD9lGbBWifOyNI2YowzyMcjjOc1wA1uz1S5MdtdRNDGSGIYZY+gFbHjD4lQ614T1LT7nTSVmgZE2qH2tg7T6jBwcgcYrxjSFhSMcJu/UV0LLY1E5T3PLw+ePCJU1HmT8/wAjrrWHXrfxBrKRCZtKntp3ZgCYjiFyhB7EEDpXl0RwD9c16bZ6xPBa3UUZ3edbSwehyyEA59if515o0UkDPHKu11OCDXqUr8ijLofP4yNFVXKg3yvXXp5CyvmPAPH1qvan957Usp+X1q/HaY8Ox3qryLpoifUbFI/rWvQ4m9RspHk96r7s4FTON0HFV9jbs+lSimyrN/rGxUsnKR/Srcmi6k9v9rjsLprbaW80RNswOpzjGKihtZ7hY1hglkbsEQk0+eLWjFySvsC9KKMlSVZSCDgj0opjTse/z6xaQ5ALTydgvA/OsDW/FD2lqQpVZJAVjGMkH1P0/niqgfcQIwSegA5rlPHaXFtfWZuInj3REqGGM8183gqSnWSZ7eKnyUm0VmupI7mO5hf9/G4lVjz8wOea7X/hY2h6xFat4n06VNQhYF5YU3LLjpn5gw9xXm0NxuxuPFUrxlN2uzB7mvoXTUtzx41ZQVken+J/iFquvJND5iQ2LAIkccewlB0B5OK4ua4cIckAVmJclD1OO9Ojk+1XMaKG25y2elEKPvWiTOq5ayOh0GGeG4jvYZ5Ip05jeNypT8RWqQsWWZiT3z3qhEfIgX1xmqs1/vl2E/KRyfSvV+rxgtDmVRvc3NL1tdI1SG5bd5OcSBf5169da7a69pazQ3ZcMmwy210Le5iGOqvkBgPQ/lzXzle3GyPG4EHpUcWnXt0AUVIEbkGRgufwrhxOFpyfPezO3D42dOPI1dH0l4P13QtP0uLT7K7iikgOHJkGZG4yxOeST6dPpXDfEP4gXGt6i2m6fIPsMLbHdDxKw6n6A/n19MeTXWhXMMe9bm2kbuqyAGtDRlKWu4/eYhR/Wow2DhKpzt3Kr46UociVjpbuSKKzHmfMx68ZrkDP51+8ELk2vUgnhfYVv6sHMDNEcEDiuXsUaFsOu1gxJBrvrrkVl1OCLu7s6uN7a1jUydD1OOldB4I8Vnw54pgWWcppty3lSjPyqWHDe2Djn0rz7VLsurIv93NUA11qO23hHmSLjaOBxivPlRi1Y6oVnB3R9nT6xFZ2H2i6YNEMsc4yy98euDj8K+cvHXiGTxF4kuJlvTPpiP8A6Iqgqir9PX1PtxxiuVuLPxVJaxQzXkrQxjakZvFIUYx03enH0qGzDxRpHKNskatuGc4I4rClhlBtnTXxrqpRSOmkuobS2Xjlh9704rndM1MTeIrbcBt3r+dXb9t0Own+EZ/Ksi70yTSmtLtLmCRpQJfLR8tHzxu9K2cVFW7mdGo4VIzeyaZ7tp0mYhk9RUd4cKa5yx1dkEOcAY5Fa9xexvB5hztxyR2rxZ0Xe5+zUkrqRjQ2scuuIXXOFY/yrsrQjytoAGBxivNpdchtfEAG8nau3pwc10Gma80kgDDGe9W6MuVJmEcTRxVSpGk9Yuz9bI2NS+Vs1z39tm18RafBFfPaK7gzyKxAES/Mc46g4xite+mMkbYOCOvFcDqUAvL/AOx2lhePdSSbZZSnmEfRR0HbGavC0mp8z6Hh8S5gsPhfq63n+R9CfsqavaS+G9Q0yIqtxBdvI4H8StjDfpj8BX0FHg4r4Y+C+tXPhf4lW0EKO1vJcm0nXYQcSMo5HsVU/n619tW8pZVPT8a9C15N9z83lrFIusBXL2Nlp0Xiq48tl85Y1kEW7hCcgkDtWzq2owaZp9xeXbhIII2kdj2AGTXyndfEqEeLn8RW9tPHfGbeDvA3R9BG3PTaAPrzxScbvRBF8qep9d0ki5zWP4b12z1/R7XUdPmWS3uEDqQensfcHgj1FabSdqprQmx4V8YHhbxVpWkecDPfXkKbSMeQuH+YeuWZv8mvR/DumWem2ogtI1RF4yOre5Pc187/AB41ZrL4vW+sDJi02W3QgsBnGHwB17nJ7Gvd9K1OKeOG5tZN8UoDow6Mp5BFctVysodN/md1CKkm+qJvGWi2uq6bMHiQzKhKNjn86l8OQQ6fp1rawKAscYAA+lXpj5lq54yQa5nwpcXdzo0Dagghv4i0UqqcjKkrn6HGfxrBRez2OqMVynUXMaXcMsU8avDIu1lYZBFfI/xDJ0fXdXtIg7RWjnLAE7FJABY9vvKPqa+rVlcqdxPA4r5e+PuiwjxyTbzyR3mpRpIyclGI4xgf7o/Gu7BYl4abS2Zy4mipQv2PSfAniS2vtJgaN1yEAIH0/wA//WrutJu452+U55xntXyP4PvZPCPiiCLVbmaPTt7CUIpPGODgjP8AdJ4zivprQ71ZbOO5RgYJEDxhT1UjIrz8RhVzXXUujWvGz3Owv7WOSNXYBmTJUg4KkjGR+dYmjS/bbi4XczQwy4O/B54YLnHbI49eKWO+bKjJ5HWq2mTOi3O4jAlbaB05OT+pNYrD2TRt7Z2sb948MUXDDPpXkvxS1dG8L6h5MojlicBlPGcMCR+IH613t3NnIfkEd6+X/i5ri6prhs9LuhPbxoPOMY4ZxnOT3AH9a3w+FXOmjCrWai7n0J4N1WPXtHgvLPeIXQEbsflx6dK09QuJLSPcIJZQOSUGf06/pXB/BiJ7DwPpy/xShnIz3LNj6dq7OS+8zy0Zim7IDA4w3oaylh7Tdi41bxVzlPEPiGyljWRVYXURyCn3o8eo+9j8Kg8Oa9BqVjLPauhl3NtLHIUDqcVx/wASNXtrGQrqcFvdy3DcKrsSEHU5zx6ce9edPr1nbuH0q1ks2DbsJMdpx0ypyDXXSo80TCpU5ZH09aXtvbxqskoaduxO+Rj9B/8AqrWh/epwCD6GvBvht4r/ALSvpIpmWC7HI+Y5kXvjjJx9a9hi1JYI4tv/AC0baue/qa5KuHfNY3p1U1dHivx6stUs/EsN3cqG06ZMQGMEhSANwb36fh+Ned2l4VI5PqK+qNU+z65b/ZbkRyI4YKHQMA2ODj8c18w6/o+r2F1cyXOjz28ULlHmWFxFnOM5xjFejhZpR9nKyscuJ5pS9pe5fttR+XDHFU7p0STzIVwCfmAOBmsdZsqMnPFSQw3F64htEMkmGfGcYCgkknsAAT+FdnIlqc/O3obVvfbfvdaq62Y54RIMCRePqKzElZvvdcYzSSSEjk0uRLUOfSxTevQrfShJ8H3uMYdbg3A98Ns/lmvPSMhjXtejW0Z+DrRsWMhsppcdh8zEf0oWzMpJuSsePBiY8L3NI0g8zb3GKIhkgDtzmmYG7Pc96ixdj6XsNNQ+BY4VBG+x6e7Jn+ZrG8IxKmmXTY4wO3tXoPhtY7nw1pskW145LSMr7goK4XSUFvp+ooOBFI0f5Ej+lfMYN8rqJ97n0O6g0TeGvD9jcWMs0ljbSM8zNuaJST09qK7Lw3aG30S0QqMlN5/4Ec/1orz6kpSm2pM0UY9jA0/SbOxQC3hVW/vYyx/GuN+M2l/a/DkV5Gh32cmScfwNwf1xXpMcQ71Q8XQRt4T1ncAwFnM3Pshr1KClCopo5K9pQaZ8rq2OP0qMoZZ40iGXY4AHc0dQPXGaRJDFLHKvDIwYH6V9MeJ1FZjmtXQogfMl752is7UJRNfXEigKJHLgAYABOa6DRYPLjtk7t+8aunCxvO76GdR6GhcnqB6EVC/h66m8O3OuiVEtYLhLbYQcuWxkj6ZFPuGG09O9dzqcH2b4ExMw2tJdJKc+8vH6AVWY15Uox5N20h4amptt9EeO69Zy2GqXdrO25red4M9OVOKkSD/iWQXIlVi8kkflg/MuxVbJ9juOP901rfERUXxlrKjBBu5HBHuQa52zkCXMZYDG7B4zxXKrygpsuyUuUPtHGChx9a6jSBvgtVUYDHdXLTDEjL1wcZArr/D4yYOwWMHj8P8AGu7DRSd0YzNa/jxA3riuSNrPZyg3MEkPmr5ib127ge49q7DUDlX9M1D46w+keHZlKk/ZdjYOegXFVid0KBx14f3xH+wKrW0O4SSM7pswBtHXOf8ACrGo/JIhP8Sj+VdZ8ILyK11y9Fw21Gt8j5c5IYf4158nZG6V9Cz4H8EXvieWaKK9Fq8aCQiUdQcen1FZWv6PJoGt6lps0yzSW+FMijAOQG/rXtfgKC/hbVtY1C3khvb6bbGH+95KgbeP4e/+cV4/48kuX8W6018FE5lGdpz8u0bf0xXBh69SeIlFv3UjrrUoxpRaWrKF4/ynHt/IVv8AjbwUvhuw0vW9T2XMErRxvBbHyyPlzySDycHJ9awLGIXl/aW7sFWaVELE4AyQM10fxm8bR+Ib2LTdMZTplq/yuP8Als+MFvYDoPqfXjonKrKtCENtbmcVBU5Slv0M7SbjzYEfpk5xnpXTSIY0dAxDqcD3riPDcheNUz91s49q7S9ci43c7JFz9a55x5Zcp+qZRiHXwkZ+RwK3N+NVaFbxvs5mKmPdnIzyK67TEzdQJ6sBXI2pV9WXK8+ce3vXaaGu6/Ruy5P6VpiOnoeLwutK0+8i94hvXsdLuZoHKzH5Y2B5DE4BrjV8SeNLRo3bVdSa3kxk+Y210LFT9RkMPwNaHjG88yW3toxuIzMwHPsB/P8AKk1DX4LqSCVQbeK3svsItUyWA8sjJIGDlmYnPrRScqcU0tzxOJa8cRjHC/wK36i+GdfvtFm1bVo5Q7m7gDhgSxwxY4PrgFec8Ma+5tJu0u7KG4hYNHIgdWHcHkGvz78wrYakjP8AK8ysF9x1P/j1fX/7PHiBdb+G+nKX3T2ObOT22fd/8dK1u9Xc+cWx0Pxkjkm+GfiERO0ci2jSK69VK4b+lfC019qfnbf7Vuyx5P7xuP1r9AvG9sL3wbrdscDzbKZBkZ6oRX57syiQsSMk9c04bsmR9gfsyJL/AMK4imnZndriXDsclwD1/p/wEV67NKFRiT2rzj9n61EHwr0UDkyK8uc/3nY/1FbvxQ1dNC8Da1fb9jx2riNs4+cjC/8AjxFQ9L2LWrR8veNtUuNT8X+LrvT4beYeUJ41nhD/ACAKCRnp8pJ/AV2/7Pvi9dS0eXRtQKC6szmNRxmMnIx9Dx7cVyd5Zsnirxna2g8yRdGMagfxYjQEfXg15V4f1i70HWLbUtP+WeBtxUdHXup9jWNJOvTa6q35G/OqNRPo73Pu2KX93tzx0rJVza6pMp4SXEg579D/AEqh4N1628RaDaajaPmOZA2AeVPcH3B4pnju9Oj6MdX8syR2ZDyKDz5ZOGP4DJ/CuV32PQjb5HReb5nArzvx1oFjrPiATajbLcJb6fMUyzKVfcuGyCOnP5122mTx3ESSRuCjqGUqeCDWB4ivobe6vY5JVQ/Zv4jgc7q58RKSjeO5cYrVSPj7UxeSyBESSRnYFRt3EjGP6fpXvPwWvLmTwWsV6zGSCZohuPIXAIH5GvO/h3zq98ScD7Mw/VTXefBl1nsbizclbgTGRxjqCSv/ALJXp1neB5dKNnzHpl3L9lFuX43p+v8Ak1DpMhlhHX53Zj9M5q34ktxNpznkNGNwPpTNA+zQqC8kallHLNXJf3dTe13oJrspitLhwCjrEXGexANfF5Vo28wSNluDj0r6r+NN8NN8E38sEyJJOot4+4bccED327q+WFUukuVJ2LuPPTkDP6114X4WzmxG6R9GfBu/a78G2JkBBhZocnuFPGPwIH4V1l7AXaeFfvfeT61wHwUulk8HpEoIMFw8be5JDfyYV6VqA2XUUg6N8prGppJ2NIaxR8u+NtD1S38X31vqDBX3eYpDggRnlcfgRxXPXMMcEEgWQszOoBIxwM5/pXqXxiGpX+tR3V1p8ggaMK0kf3QQT1/CvMb+GRr63gW2eHdtCRnJJyeDz68V1Yepz005bmNaHLN22NS1nudCl0bVFDNJAu6NGBCyJuYkZ9DlhxXuOh3t7q1ha6vdzQCNovNjgj5Kbhwvbp/jXlfxAgj0mbS7EzyNFb2SERvISqyFjvKjtlhmt74V+IhcaNd6bKctbsXjz3Rjn9CT+YqaqU6aqIdN8s3BnpWmsTb7h95HBB/Ssf4kTXeo/DONI5MTT3ckZVedyoZMA/8AfK/jWnohLWbH1bGa828Qa/dXlq2l6VHO08OoG6UMuxWwrKwBJ57cfWvPqUPaTi10dztpzUU79TypXKsQ3au2+HVpMIfEWrLHG0NlpsylmPKvIpVcDv8AxfhXPeILIHW7mOyRsgeY8eOUJGSPwzXSeCL5Lbwf4vt3B3T2seG5IGGIwR+PX/GvSrycqWnl+ZxU4qNXU4wHFNlbaAPX0p2CahkO6YqByOK6JbGCFUfKO9e2eFFiu/h9/ZckhF09mzRlONytkhSfrn868YVOcnjiui8O+IDFcRwnEbkeXFK74ReMAHI4GcHOePzrJ3toOO5hBcJj161FJwwI6GpVdpIyu3JLUyYbXwevFCK0PqL4Q3f2j4e6S0j5KK8fJ6BXYD9AKyEjE1tMy/6q7vGcnp8jP/ga5b4Yao8fgW9twzebHO0cYHqwGP1JrsNfhfTfDMgjG6WGAlQOm4Dj9a8H6vy1anmz2sPUUqcTvcovyqMAcdaK5LRZbs6TZ/b3Bu/KXzSP72Bn9aK8p0nF2N1K6uaomiHfNZHjG4T/AIRPWgAebKYdf9g1Kvt+tZHjGVV8K6uNwybSQf8Ajpr3oUldHmVJvlZ88XFio0i3u4vvjIk/M4NZ0iZXj8qvapGsVnbtI5M0i5RAuAqAkZ+pNX/DGg/2xMFnv7KxgRd8kk8oBVfXb/8Aqr2LnnJX0Rgl/OmiGMYVUPvjiux0vBkkkPSOPApNY8P6XNqz23hy8tpvIjjO95wPObncF7E9OlNsz5emOehkYCuzCSvcyqxa0YkoaVooY8b3baMmu48emSL4drbgKkStEqr14BGOfoK5rwvbC819A2NsYLHPNdH8TbfzfDXmMz/upUZRnAOTj+tc+Nkp1Un0NKV4wdup5X4gmlvdXnmbDzTysTsOcn0HrVmwtrVPDupyXELjUbeaEpu4wpJBBFdZ4P8ADFtPq19HMGc2RTYT6tnn9K2rnwNJPJqnkzKEvFQKGX7hXv15rByVrFJO9zg/iGLeTxLLLZIsUUkaOVQYAJHarnh8FdoPJ2Bf5V2N94Gs5VgaeSY3EcSxl16NgY6VzWm2otdUu7ZDlLdmQE9cBsD+VdeCmm7Izqxa3Lmofdk/A1ieILj7RaJswsUTgIi/dVeQPx5rZ1QExnHBZafeaEINDnjkjR5ETcJSxyMDOAMU8dfmjYdC1nc4vWAT5BH93/CpPDrmPUY8HHmRMPpzn+lR6jIkkcIjkV2XIwDnFdZo/heZYtOu3JXahZxt5O7kDP41yVLWaZpB2dzrtD8XRWujuuqXEzS2qnaGblx2A/lXnGt6o+s6reXrp5fnEYUdgAAP0FdPrGi/a2RndfMHU4ByPTAxXH6taHS7x4WbfwG9OtZUacYarcupUlLQ09BsxearbW0r+WrHBYHBHFbHjDwxpOl6R51m0ktyrgZByqr3rL8LRy3+qRzRxnEYZzjkA9BzXV31lJNayQXKnZICDg81bvz3uLTl2OD0ImK93Z+Xygcfia765cNYxDqSoKn0IHIrkLewkjxcocxRFUcHA+X/ABrtrRI5tLPks8hyPkI6fSueu/eufoPCtZSwjh2Z5rYPI3iKdcFVDsxHpzXe6KQkuT3Xj8SKms/DN3faVd3ljah2tXHnBEy5BLDtycY5pNOji8lWOfMGRjOOlTVldm3D6jCjUad/eZ51ql6174gl2SyJEvybo1ycKPTI75/OvbvBF9oWq+CjcyaTZG8hia3kbyVBLKvDDjuMHPrmuZg8N2VzEk6WXzFccHBxjvjrWrY6cbK1aOCFYYwjYC8dqurCNSKV9j4GpWnKtOpPXmbPNI4xeW+o22UUqzSBiOgwp/pXp/7Kviq20rxBf6JeT7DqJjNvuPymRd2R9SCP++a4yDw7keZNOwivsphU5TnHXvUmieCrjRNatNUN3vS1nSceX8sjBWDYGehOMCtuZWsc1ne59zSHzLNwQCcd+9fnb4nMA8UapDZxlbQXUghX0Tedo/LFfoXos6X+mW91bMJYZo1lSQ8AqRkcV8q/FPwu118SL3WdOzZTQ3IZWhQFN6Yw/XqSM/WjmUXdicW9EfQvwosH0z4f6Daurq62UZcOMFSVBI/Ak15J+1n4heLT9K8OwMQb2Tz5sf3FOFB+rc/8Br6Ds3aXT45gituTdlTgGvmX4vLB4n8czPfS+ZFp7eRAsPyjgDcG7kh93ftQxq5y1rdnS/F+o3DdBFsYt3AX/wCtXndywjDApEPOy+FI+XJ4Fd59lfUPEd3bMxYzIyls842jn9az5fAssAlQtFIG7leR9PSsIxSejN+fujR+Fniz/hCdbS01C4VtK1AJJuU/LCxHXHb0P0r6Wu4LfWNFuIH2yQTxFWHUMpGK+bI9Atzp0FrebZdibdzr/XtXrHwVlvIbKXSppGuba24gmY5IjPRD9P5YqKsUtUb4eo37rND4Y3BfQvsjqFl06Z7J1HQbPu/+Ola4rx5qijxPqkZVmaJVQen3A3/s1eleG7FLfxHr8cClVeVJj6biuDj/AL5rzr4i2Sr4vmXCbpoFlODyeSv6YFZQUXKzNqzahdHhUZhijLzC4I38eRMIznavsc11Xw91h9K8YWEcs06210BAMdy3zbiwwSd/t0NU/BSebdTo3UL378LXd6PoMVzq1mJgPlcODtzjHI/lXXUnFQaZwUlLnXKdh48me20tlkurlFldUBWQ5I6n+VdhpsSNpNtI2CoQEnHtXE/E5Q1tpwPO1849ypFdD4okkj8HG1icxPPF5ZK9QD1x+Ga8zRJPues78zT6HhHijWh4t8c3FoZwujRhmT5dyyMu5d/APctgnisvxLFDH4U8tdNt4XhVVW4VSHYFwSP5cnPT3rvI9Fit9rQJtwoQEL0HpmsPx9ZlPC942c42H1/jFelCSVlHY8mo5SblLcqfB/WfsJt7KRGMd3esvmA8K2xcA/XFe5awrSabI0YDOq7lB9RXh3wdthMiSOAVjuyw47iNSP1r2/M8tvvt8HZwymsatlN2LpXcdThPF0b6zolxZwTtDNJhl3HKtg5wfavF4PD+pR+Iokkt5Ivs8gYuyHZwc8E9favc76x23jMgIDfMF9Pam+SNpF0o2H+7zSpS9kml1HUXtNzi9Y8PWevPHNfX6yXSLtBYsMDrj9fSsDwzof8AY/jKe1WQSh7UyRlDngsBj9DXp0mkWE4zGAD2x1rz7xTHNp3xB0X7PhmkjWPCHGQWYH+ea0hU5lykSik+ax6npa+XZx8YzyRXD6xYtHrl55DuT5hfbn+9z+XNd1EH8qJIsk9BWHq1jO2oNLDxJgZIH9ayjLU1a0PObfRr2O8v72WJRdNKJIT3AHb8u1dZoA0bWbC70iWzewvLxlFwY0CuwBByDgj9O9dJYTMvy3sQP+3tyKr67d6bpN9YXk7pGoZhuUdiOR9e/wDwE96UqknK1iqUUuuhkePvht4c8N+Fnv47i/FwANu6RWBJOBxgf0rxdYQJi7H5GPB9a+r/ABn4fi8deBT/AGfcb5FjEsJjYEORyPzry/wP4Djn02G71WWfc5ZJLVkChSrkdeucj2q6eJSi/aPUWIw+q9mtDyGRfmAH0zmvVY9J07R9FuWOm2c6JG0haSBGfOPUjI/A13KfDXwxc4LWjAg5OJDz9fWtu/8ACNpc6ZPYgAQzJsYLwSPrUTxsLqxNPDSWrPlS0lKylOzHP41LMMzDI4FeleJPg/qdn++0iQXcQ5KPw4+mOv8AOsKHwbN5couL+1guQRtheOXc3r/BXSq9OSvFnO6U07NGPocviD98nh5Z3IIeRYlBK9g316816Nok3i3WhZ2OuWpgsIhummk+/KQPlyM+uD07V0/w98Gf2TY+a6qJ5hlpDkMV9MHpXcJYonG3Pua4K+LTbSXzOyjSmo7mBEkaIADL+VFdB5Nr3Kg/hRXBzo6uRnOGFgvBP0rC8YRn/hGNULf8+7/yrs4bRm4CE/hVfW9AGpaXcWk+9EmQoWTqM16qmkzz5RbWh414Y8CWuo6Pa39wGleQFthPHWvTPDvgPw+dBvGu9OieWZSJGDsuVznHB9h+VQ31j/YmgW1hb6Vd6nbgeSyRPhwuPvHGM/T+lcvp/hLxQuufbfD0N5p1nJEUnS+kQ7gc5ART6EYz371v7Tm1bsOEIx3Vy/8AD7wNYTeH9S1ZtMUXk5mk0+MyspRcEIASe+M5PqK8dGoNFO9neReU8TlThsgMOMV3+qaZYafpVzdXPh3X2mVAZJ7qYxKp+6Oe/JGMegGK4C6sDa6Tb3sjRDz2ZVjHLccE10UK8oNu+5liKcdFHod58NrV2uL282nBQIjdjzz/ACq98RWkPhe5V8k74/8A0MVt/DGNp/C9uqpgqxQgDk9/612l74OttWsjBqC7o2IJAbB4Oe1YVcSnUcpAqL5bRPNvAcJm8Qa4FP3jCc/8BNegGy8lRt59yav6T4RtNKvbm5tECPcBQ/JIwvQD0rZax3LjbHj3rnlXUnoaxotLU5KS3745r521XVLuPVr6aylCpJM5DBQdw3HB5FfR3jadNC0C+upmQbYyqD1Y8AfnXgOtadBZ+GbS8bm4nlKggEcY7569uldWHq8mq6mFWDehJptvrtzcWLXal7eba2do+6e4x7etel6p9nt9PuZbsZgSNmce2Oa3PCFslz4Y0rAXb9mjB9iFANcv8Ybn7Dp1ro9gg868OZCoy20EYA+p/lTliJVJWkHslFOx47DABZrdn5UeUxJ7kAE/zH517l4RLaj4YsHugrFo9ox3AJA/QCvHre1+1raaVBFK90k5IjPyjc2AQc9zgd+MV9BeDdCn03RrO3utrTxp82DwCTn+tTWqK2o6cOxlnQ1DH92V75rzLx5bRjxHLBGM+WiAnvnGf619Iw6dGUJdIz7kV4dexHT/AIyXNtdxRzW8m9wu3cCpQsvY88AVjTr6vyRpOirI1/hXYwRaDPMifO0xVzj0Ax/Oug1GyV0aRQQRzgVg/C+eaTxNrumCCSFd3nxwMCCozg4Bx6j9K9N/sWaf5WiNJ1FGV2VycysjxHSbMXFteRNgxM7K3qOOMV754L8HafpWkxzLCjT7B87DJzjrzWJpvgCCxs7uKAyM07M4aRgSpIxxgV5hD4a+IcOm3GkH+1ZGWceW3nHyigGPvluB7Y9KHWhUdkzWjKpQTWuvY9h+DNmttpt+JCC32mRGJ68MTz+dc38UNIsr7xFZ2wyCInlcQtsbkgAkj/gX5GvOrfwH4z0i8u0t47uR3RDHcW0m3c2OcsWGMe4OcDpXo3w78CX+lwTXeuyNc6ndMGlLSFyoHQbj1xzUznCPvcw4zk1aKaI7WzECBYExx060zUNOdrV3AKsATkGvR4NKEWNkIH60y80vz0KPHjcCOOKwWIje4nRdjw+1g/0PQXLDZJcFVAH+1zXXXNjHIuJIsgDAx/U1vR+A7eK3sYUFwVs5PNjO8cnOcHjp+VbyaA7L8sQUdxmtZYiPRkKi+qIvh3dyNpzae1w7/ZyVRWckBTyAB2Azj8K4zxwoFzq8KNu3Rs2I++5T/UGmeOdJv9D1a11S0EsdsyiGbb91SCSCR0I5PWtGzszrOtMtorGL7MTIc5UMzAqPrjPFcyqe/wA19D1Hh1LDc6ev6nReDNavLjwHbS/2g6vHAN2JenH1rgrTSvNIuH/fb/nLscls85P1qtaaNqFj4fm027t7kXkEmxIvLLCdTnG3H8+1ei+HPDd1b6TZxXAAkjhRW3dcgd6uFdxbuyMZhoKMZQadzya0s/M+JbQxjGYyeO37ta7l9HkI2vgj6V2lr4bht7yS7jghF1KoV5QOWA6CrM2jO/KnB9KbxKvocKo6annFzoMQgeRyFRAWZnIAUDqSa7jwPYQ6LodzPJtiyvmuzHAUYzyT6Csnx74O1HXfDc1jYPEjyspcM5XcoYErnHGcVwT/AAu8WGxe2trm3trFCCttJcPM0oXopPCgVftYyWshxXI72PYvA8Mz2Vzqt0SH1CUzxowwY4sAIPqQNx92Ned+LbaPVPiJdLFIJHsbOON1U9GdmYg/gq/nVS08NfEENHa6dMdOs1ADeZeEj3wExgV3nhfwRHo+mpFI6z3b5ee4x80rkkkk9T171m6sYu9y3easjxDwL4W1SDXr2O5sZoY8EhnQ7WGVxg9DXpWk6OYr7zZcfuuCByM+/wDnvXoCaN5Z4YVWk0O4ikkeyuY08w5ZJI9wJ6de1Z18R7RWLw0FSkpM84+IxZb/AE1wp8gtliv3SOP8f51uXNtLqHh2J0BMhG7pnIxXSXHhhr4M+oTpLKV2hVTCj/GqiR3mnBLd9MuLlUOFeIgqV6evp6965+Z8qUXqjtVWHM21oc1YaA7Qgu2MjoaxvG/hW51Hw1fWdiivcyKAoJABIYHr+Fen6bp08okknia2VyCkTsGK/Xk1LLoiyfePPqOK3jimndnBKhF7Hgnw48OaloOnTjUrUxSpcbwuQdw2qDjH0Ndq3jPw9ZSMJdWtkKg7ljYyNx7KCa7LUtD8i1mkTzGKoSBnrgV8/wCmeHtYW3vZZ9KIndmZkkgdpJCeu3Axz7V0wqqq3JmDh7JJHrWlyab4hia8tJGki3lA/llA2OvUA1ek0S1dflJB9xmjwDor2vhewgkj8p0jAZM52t3rqk0wIMMcj1rlnVSk7M3jC6Vzgbvw/tORtx6r1ri/F/w/vtX1Sz1O1vVha1UYDIWJIJI6V7sLFF6Yx9KYbCB85z+VVHFOOonQTPDdR8VxaLbqmq219BOwwRHGGDeu184P6Gp9H8U2t3qsVrqsX2SzmiHkXEsnO70fHAyD+nXmvV9a8I6Tq9u0V3CHVhzkVwF98JvK3rbSPcW5XbHHJiQp7gllx9Oa0WIpyVnoRKnNO/Q35dCYDEI3rjjGOazb/wAI/b1UT24JXJHzeoIP4YJFdj4U0a40zw/a2N1M8rwJsV2xu2joDjI46de1aotwOoP51zvEOL0Zr7JSV2eRW+meKvBf73wxB9osHJ86xyG2/wC0men0H5VnWvijXD4kT+1rS5hsZm2NBLYNG6EnhgwGG/SvbmhXPT9aPKA6A0vrSfxRuP2bStGWhzn9nSqwKEY7EGraRSheuT9K1iB0ZSPejYPTNc7m2aJWMhopTxgZppsWZck4btWx5YpuzHAFHMVYxPsEmeT+RokgMfDZx71tFCPeoZIQ3VaLgYrW8bnODRWr5KjqF/KikMkFvSNCR0HFWtvNSAcetddznsZrQnOSpprxkKdvBrVwO9MkjJU4ApqQWPn34xazcT6lFo1uGmELB5Y1BJeQg4HuAOfTPXpXDafZR6rNpunW6CS6WVo/LfIyx6DnoM8V7Fr3wtvr7xLc6nb3lupncsfMQsQD24PStzwb8MtN0C+W/nc3d6pyhK7UQ+oHr9a7XXhGmknqckaUpTvJGj8PfCr+HNDW3vHimumcySMg4BOBgH8K6nyAR/hVgRmnCPHTNee5OTuztSSVimbY9sfjUUkRVeR+NaWw9KimiZkODzjg0KTFY+dvi9rdzq3iZNJgguGsdOcPKIhne2B8xx0AzgfjXH6tdJrNzbafZCSSPzwVEj7wpJ6A4BH4169d/C3UX1e/urXUoolvXZpNwYtgnOODW/4P+Gel+H7pLyXN5eIcqzjCofUD1+tdzrU4RVt0cipzk9UavhPw0mmaHZ2c/wA8kMYDOuQCfasbxd8PDrOsQahZ3v2aWFNqlVBK8k5BxkHmvSkXIHH50oi+bNcarzTumdLpRkrHmPhz4X2Gmakl/fSvd3SvvXgKu71OBzXdrp0OchcH2Ga1Qn+yMUoX0GKJVZyd2xxhGKsjKksGA+UAj1r5/wDjNpc0PjOGS3ITzoUSQkc9SM5/KvpfyyRwao6loljqaqt/axTbehYZxVUq3JK7IqU+ZaHzp8NdNurHx5b/AGO8+2op2lwPvKeDkdQAOee9fSUcIC/Nyag0zQ9P0wH7BaRQ57qOTV5lOO9TXq+0ldGlKHJGzIWHHyrz2phVsDjFWQM8YNOAHbH0xWBoVxHjrj61IsQzycj0qbChff3puzugAFKwxViGMil25OAMkU6MH15p3TqOvpTsK40IQPu5peg5GKfubsKRmPoM0CGMA4wwBB4IIpYY44l2xxog/wBkAUFdxy3FIXwwAFAErEf/AKqcFyOBxTQw7inLKN2AP0piEI9OTSkYXNKzDBwCTTVJxyBR5BYarD0I/rTwM04LkDGKdsIHFIdxgWn4owR1pe1AhtIRmngA0FcdKLBciUEj5uvpmjHpT2Ud+Kbtz3zSsO47bTStOAwKdjjrRYVyCRMg55Hp1rEuPC+jXLZksISSd23kDP06V0G4dKjZRnPNCbWw7X3KENrDZQrFBEscSjAVRgCpFbPuKsBVORnrSCLoDj6ikylYqy4Hrn0qNjyATj9KvvENvzfzqF4c/dqXcasRbRt5xTNwXqeKc8Mi9T9KiKMhz+eKV2Mcrox+RwfapNnqBn61Asak5Cj8OKsIGH3ecetNaiGbPamNE3YECrG45+ZCPpTuDTsBSZAKhZMHIH41ekjJ6YqPy228j8qmwFTadwwTz1zTijVMU9uaMbR0pgVthI9KbtPerhX2qPbjtzSAqMhBoqyRjtRTENVR6k1JtxwKcoUVIqjtXWZEePUULGT1qbAHWnAjtSAh8vsaFUVYyM9KcoU9sUWGRLHS+Wam4FBx70ICHbSMrdgKmwOgOKeFwOc0hFIx880nl7V6Z/HNXGAzUZGOnNNjI42wOeD6VL1703Ye6j86FU7qlgShadsoVPU1IOKQDAtIF46CpPpQeBQMjK4+lAwetSAHsKeFP40gIwlL5PcYqRQQckD3qQfSlYLkHkrjnOaFiOeM1ZAzTsYp2FzEQj45FHlVNijFOwrkSx47Um0GpsUYoC5VkiOBjJpI4yG+YfpVwikIpWHzEGPUUjMFqbbSMoxjigLjPvKaQR4HGfzpwTAxgYp2AV5pWHcREA6U4inAAe1GfTmmTcjK5704LxThS80WFcjIx0prHFTHmjaDRYdyMEGmshJyDUrL+FIqkUBcrsx/Ghdw71Oy/jS7Rips7juiIkkdBmo/z44qfGPSgkA9aGNMqbGP0p8cW05JqzjI7YqJk5qbD5riYz3zSY9MZpSNvTmhV59KWoCbT60hjHU9alxgdaYTmmCbK7QjsBUMgZORVxgx6HFRFSOvNKxaZCsgI96duH0p+wf3cfjUbIT/AJ60AHQ0HFOGewJ/CngZFILkBjQtuAwaQqRz29Kn2H2pjJigZA3tUbdecVO4OOKiZT7ZoAixRTsetFKwgVeKeuT2oUg9OlSBfTmu0xGEE9AKVR3b8qCM9eKeo2igAGDUg44pnJNKDxwOaQx2O4pNvPJJpyAt97FPIwMCgBqgClY+9L/Olx64JpXEM69xQkQye1SKmOtPouMj2Y5601lPUDmp8H0oIqQK65/ip2W7D8am207ZSAgVTnmnlT7D8Km2gClCgjkUAVwCBnNOBb/69TFfQUzBIpMBG5604OAvNCqR3p2zNADgwpwNR7T/AJFP+tMTHUUUooJEopaQ0AJ+NITTWzSFsdjRcqw/rSMeeKZvA604FTSuFhwBpVFGeOOKATQIXrSijFGKYhcfSk70c0HOaBC7aMUq0UCGsCabyO1PNNwfShlIM5pG6UuMUtADQuaRkyKfScUrDuxoAFJx2ob1pA2eg/OpYxT92k7UZoHNADTz2pFAqRsYpuQKkdxDgDjFNOPTFScU09aLDRG36U3bzxUhz2phpFC4pCKUGlNAEeKawNSGkakO5A44qswOeKtSA9jUDqe9AyFj6iilx6GigYyH7hqdOn40UV1MxHGnUUVQuo9elHeiikA6OnH7xoooGIvWpaKKliFFJRRS6gSdqatFFDAB2qU9qKKQC02iimwHDpTBRRSBCinrRRQgkKaQUUUMOg5elONFFMjqB+7SNRRQC3Gmo360UVLLiNP3aF7UUVHUroOHapVooq0Sx46Ug6UUUzMFpaKKaGxFpRRRSEwFOoopgR9xQ1FFIaCmCiipe5SFPUUw9aKKTGho60/0ooo6AIOtIaKKQwHSm/xCiipGKaZRRTGhn8X405qKKRQhooooAjf+tVn6UUUgRE3WiiigD//ZMoDUl8yjzKi8yigNR++jfUXmUeZQGpP5lN31F5lM8ygNSxvo31X8yigNSXzKb5lReZ70eZ70BqS+ZTPMqPzKPMoDUn8ymeZUfmUeZQZEnmU3zPeovMpvmUGupP5nvTfMqLzKPMoMiXzKPMqLzKPMoNdSXzKPMqDfRvoMiTzKPMqHzKPMoAk8yjzKi3tTfMoAn8yjzKjplLmAn8ym76io8ytAJd9G+ovMo8ygCxTKfTK7TxwptFMkoAJKfTKZQA+meZTaPM96DUKj8yjmmeZUBqHmUeZTd9N8ygsk8yjzKj8ymeZUgP8AMpnmU3zKPMoNR3mU3zKb5nvTPMqAJfMpvme9ReZR5lBZL5nvR5nvUHmU3fUATeZR5lQ76KDUm8yn+Z71W307zKkCfzPejzPeovMpvmVBJP5nvTvMqDzKPMoAs+ZT/Mqr5lP8z3oLJ/Mp2+oPMp3mUF8pYoqLzKPMoET+ZTvMqDfTvMoAn8z3p3mVXp3mUAWaPMaoPMp3me9AFjzKk8yqvmU+gCfzKd5lQb2p++gCfzKd5nvUHmUeZQBZ8yjzKg8yn+ZQBP5lHmVB5lO8z3oAn8yn76r+ZR5lAFjfTvMqr5lHmUAWvMo8yoPMo8ygCfzKd5lQeZR5lAE/mUeZUe+jfQBJ5lO8yod9G+gCXmjmot9G+gCXmjmmeZR5lAEnmU3zGpvmUeZQA7zGpeaZ5lHmUAP5o5pnmU3fQBLzSeZTfMpu+gCTzKPMqPfTPMoNdSXzKPMqLzKb5lAaku+jfVfzKPMoDUl8ym+ZTPMpvme9AajvMo8yo/Mo8ygNR3me9N8ymeZTfMoDUl8ymeZTfMpu+gNR3mUeZUfmUzzKA1J/Mpu+ovMo8ygNR/mUeZTPMpnmUBqTeZTPMpnmUeZQGo/zKPMpnmUeZQGo/wAyn+ZUPmUeZQGpN5lO31F5lHmVnzBqS76d5lQeZR5lPUNSfzKPMqDzKf5lWGpN5lHmVHvo30BqT+ZR5lReZR5lAakvmU7zPeoPMp3mUBqT+ZR5lQeZT/MoDUk8yjzKj8yjzKA1JPMo8yo/Mo8ygNSTzKPMqPzKPMoDUk8yjzKj8yjzKA1JPMo8yo/Mo8ygNSTzKPMqPzKPMoDUd5nvR5nvUXmUeZQGpL5nvTfMqLzKPMoDUl8yjzKi8yjzKA1JfMpnmVHvo30BqSeZTfMqPzKPMoDUk8yjzKg8yjzKA1Jd9FReZR5lAaj6PMqHzKPMoDUf5lFReZ70eZ70BqS+ZTKb5nvR5nvQGo6m+Z703zKPMoDUk8ym+Z71H5lHNAaknme9Hme9Q0UBqTeZ703zKjpPMoDUf5lHmUzzKbvoMjWplPplegeONplPplADKbRTKACk8yjmmSUDiHmVHT6ZUGmozzKPMpvmUeZQWHmUeZTfM96i8ypAd5lN8yo99M8yjlNSXzKbvpnmU3zKgCXfRvqv5lHmUFkvmU3zKi8z3o8z3qC4jvMo8yo/Mp3me9RIol8yjzKi3rR5nvUgS+ZTvMqLzKPMoGWN9O8xKgooNixRVfzKd5lAyfzKd5lQ76d5iUBqT+Z707zKr0vmUBqWfMp/mVV8yn+Z70BqT+ZUnmVW8ypfMoMiWiovMp2+gCXzKd5lReZS0ATeZ707zKh8yjzKALNHmVF5nvR5nvQBY8ynb6r+ZT/MoNdSfzKPMqCjzKA1LPmU/wAyq3mU7fQGpP5lHmVBvp3mUGRL5lO8z3qDzKPMoNdSfzPejzPeovMo8ygNSfzKPMqPzKPMoDUn8ymeZUfmUeZQGpJ5lP8AMqDzKd5nvQGpL5lFReZ70eZ70BqS0VF5nvR5nvQGpLRUXme9Hme9AakvmUeZUXme9Hme9AajvMo8yo/Mo8ygNSTzKPMqPzKPMoDUd5nvR5nvUXmU3zKA1JfMo8yovMo8ygNR3mU3zKbvpvmUBqSeZTd9ReZR5lAaj/MpnmUzzKb5nvQGpL5lHmVF5nvR5nvWfMGo7zKb5nvTfMpvmUcwaknme9Hme9R+ZR5lPUXKSeZ703zKi8yjzKNR6kvmUeZUXmU3fRqGpP5lHmVBvo30ahqT+ZR5lReZR5lGoakvmU7zPeoPMo8yjUNSfzPejzPeo/Mo8yjUNSbzKPMqHzKd5lGoak/mUeZUXme9Hme9GoakvmU/zKr+Z707zKNQ1JvMp2+ovMo8yjUNSXfTvMqDzKPMo1DUn8yjzKg8yjzKNQ1J/Mo8yo/Mo8ylzBqSeZR5lR+ZR5lPUNSTzKPMqPzKZ5lGoak/mUeZUHmUeZRqGpLvo31F5lHmUahqS76b5lM8ymeZS5g1JvMpnmUzzKb5nvRzBqS+ZR5lReZ70eZ709Q1JfMpnmU3zPem+ZRqGpJ5lN8z3pvmU3zKNQ1JPM96PM96j8yjzKXMGpJ5nvTfMpvmUzzKOYNSXzKb5lM8ym76OYNSXzKPMqLfTfMo5g1J/Mo8yoPMpnmUcwuUn8yjzKg8yjzK0HqS76N9ReZR5lAaj/Mo8yovMo8ygNSXzKPMqDzPejzPegNSTzKPMqPzPejzPegNTfplPplerqeBEbTKfUNZFDaZT6j5oAOai306So6ACoqPMplQai+Z70zzKb5lJQWL5lR76SSSo6ksd5lN8ymeZTfM96Ch3mU3zPeovMp/mVBcQ8yjzKi8ym76AJPMpvmVH5lHmVBqS0VF5lO31EgJPMpKZvo31I4xH1J5lReZR5lBRL5lO8z3qDzKd5lBrqT+ZR5lR+ZR5lAak9HmVF5nvTvMoDUsb6N9RUUBqWKXzKg8yn76A1JPMqXzPeoPMpaA1LHmU7zKreZTvMoDUn8yn+ZUHme9O8ygNSffTvMqDzKf5lAaknmU/wAyoPMp2+gNSfzKd5nvUHmU/wAygNSTzPejzPeo/Mp3mUBqSeZT/MqDzKd5nvQGpL5lHmVF5nvR5nvQGpY8ynb6r+ZR5lAaljfTvMqDzKPMoDUn8yjzKg8yn+ZQGpJ5lHmVH5lHmUBqSeZTvMqHzKdvoDUk8yjzKj3tRvoDUk8yl5qLfRvoDUk8yjzKj30b6A1JPMpvmVH5lHmUBqSeZR5lR+ZTPMoDUn8ym76i8yjzKz5hcpLvpvmVD5lN8z3o5h6kvmUeZUXme9Hme9PUNR3mU3zPem+ZTfMo1DUk8z3pvmU3zKZ5lGoaj/Mo8yot9N8yjUsk8yjzKg8yjzKNSNSXfTfMpnmU3zKNQ1JfMpnmVH5nvR5nvRqGpJ5lHmVH5nvTPMo1DUn8yjzGqDzKf5nvWQaknmNT6q+ZT/M9611DUk8yjzKj8z3o8z3rINSfzKPMqDzPeneZQGpPvo31B5lO8ygNSfzKPMqDzKPMoDUteZR5lQeZR5lAak/mU7zKg307zKA1J/M96PM96g8yn+ZQGpJ5nvR5nvUfmUeZQGpJ5nvTvMqHzKPMoDUm8yjzKh8yneZQGpJ5lHmVFSeZQGpN5lN8z3qPzKPMoDUk8z3o8z3qPzKPMoDUk8z3o8z3qDzKf5lAajvMo8ym+ZTPMoDUl8ym+ZUW+jfQGpL5lHmVFvpvmUBqT+ZTPMqDzKPMoDUn8ym76i8ym+ZQGpL5lHmVF5lN8z3oDUn8ymeZUfme9Hme9AaknmUeZUHmUeY9AakvmUVB5lJQGpN5nvR5nvUXmUeZQGo7zKPMqPzKPMf0rXUNR3mUeZTfMpu+jUNSTzKPMqPfRvo1DUk8yjzKj30zzKNQ1JqKhoo1DU63moql5ptexqfOleSmU+SmUFxG1HzUlR81kUR0yioqAGU2Sn+Z71HzUDiM8yovMp9ReZQbhTJJKPMqKpLHVH5lN8ym76Cg307zKj8ymeZUFxH+ZTPMo8yoPMoLiSeZR5lR+ZR5lQUSeZS+Y/rUXmUeZUSAk8yn+ZUHmU7zPepLJfMp/mVX8z3p3mUATeZTt9V/Mp/mUGupP5lHmVH5lO30BqSeZT/MqOk8yo1DUl8ypPMqDzKdRqGpYoqLzPeneZQGpL5lP31FRRqGpP5lLUPmU/fS5g1JPMo8xqSitA1JvM96d5lV6XzKA1LPmUeZUHmU/wAz3qNRcpP5lHmVB5nvTvMpcwcpPvp3mVB5lHmVoPUn8yn+ZVXzKf5lAak/mUeZUHmU7fWfMGpP5lHmVF5lHmUcwak/me9Hme9R+ZR5lHMGpJ5nvR5nvUfmUeZT1DUm8yjzKj8yjzKNQ1JPMp/mVF5nvR5nvRqGpL5lHmVF5nvR5nvRqGpL5lHmVF5nvR5nvQGpL5lHmVF5nvR5nvQGpL5lM8ym+Z703zKNQ1JPMpvme9N8ym+ZRqGpJ5nvR5nvUHmUeZQGpL5lN8ymeZTd9INSXzKPMqDzKZ5lZhqT+ZTd9ReZTfMrUNSXzKZ5lR+Z70zzKQak/mVH5nvUXmUeZWYakvme9M8ym+ZTfMrQNR3mUeZUe+jfWYaknmUeZUG9qPMoDUmoqHzKb5lAaliiq/mUeZQWT+ZR5lQeZR5lAE/mUeZUHmU7zKAJ/Mo8yoPMp++gCTzKPMqPfRvqAJvMp/me9QeZR5lAE/me9Hme9ReZR5lBZP5lO8yq3mU7zKAJ/Mo8yoPMp/me9AE/mUeZUHme9Hme9AE/mU7fUHmUeZVkE++jfUXmUeZQBLvo31B5lHmUAT76N9ReZTfMoAn303zKi8yjzKAJfMo8yoPM96PM96AJPMo8yo/M96Z5lAE/mU3zKi8ykoAm8ym+Z71HSeYtBZL5nvTPMpvmU3zKAJPMpKi30b6AJPMo+So99MqAJ/MpvmVFRvWrAl8ym76i8xaPMoAl30b6r+ZR5lAEvmUb2qLzKPMoIJfMo8yoPM96PM96AJfMo8yoPMo8ygCejzGqvS+ZQRqSeZR5lR+ZR5lAaknmUeZUHmUeZQGpv6r4u0jQ45Gvrz7P5Kb3/dP9z7v3FT+/WlHOs+h2errJ/wAS+8SF4Lj/AJ6JJ9x9n3k3f7dcL8bNH1ODR9QvtQjkj32qbPMi/j85N/3v7v8AFXdWkH/FlvCa/wDTrpH/ALRr6uNE+Op1pzjKUv5o/r/kWv7KvJPux1VsbWTUtUj0y2j8y8d9iR/7f+/92u5jg/cR153BGsnjHa0kke+6f/V/397/AMFc9SMIcp2U5fFzHQa54E1rw/8AZ11Cz+zyTfcj+0o//jivurRh+EPi+6/1WjyfJ/z0kT/2Z63vhzqun654gvNa1eSPy7NP9Ft5Pufxu7on+z/u/L/wCvRvA/iK+8TX1x9okkt40ffBHJF8kiL/AHH+X7tV7KBzRxMvdj9o8Kuvhn4ltY5Gl0v92n/PO5R//QXrNn8HavHJtaz/AL//AC0T+H/gdfUt3b2T+JFVIJUuZI/nvLeTZhP9v5//AGWvN/FUeleC9J1y5ikk1S8+eSxt/N3vcfxuibauNCBMsTOB43P4R1WGPzZbfy4/+uqf/F1BB4V1W6gjlit/3b/9NU/+LroPM1Xxda+H9Q8uPT/vzvHJv+4330lRvl+V/uv95v8Ad310cF15d1cWa+X5cLun7uLZ935PkT+D/colhoGsa8+b3jzeTwzqf/Pv/wCRU/8Ai6p3Wh30H+tt/wDyKn/xdeqfYYpI9zVz/iOx+zwblkrmlTOmNaRwH2Wf/nnR/Zs8n3Y/v/7lXv8Aeq3a7f3bf79YyibU6nP7sjnNVgl0ePdeR+Xv2f8Ajz7P4azZNVto49zSfu0/363vib+8jj3f3E/9DSvPtS/49dvl1Eom1ORej8aaRPB5q3n7t/8Apk/3P++KP+E00iP/AJfP/IT/APxFeaabAsGj2f8A1zf/AMd2f98U2eNY59v99P8A4isTpjE9In8eaHBHulvP7if6p/v/APfFQSeP9Dj+Zrz/AMln/wDiK8r8Qbo9N3f7af8Ajr76dHB5ke3/AD/coA9QtfH+g3UcbQah5m//AKZP9z/vir0fiPTp/u3H/kJ//iK8R8MRt9ht1b+Df/32td/ax+XVxpxIlU+E7j+1baT7slO/tKL73mf+h1zkFXI5KPZxD2pufaopP+WlO8+L+GSsqORpKnjqPZB7SRe85al8xXqn5f8AdqWOT+Kj2RftS9b2ss8e5Y6k+wz/AHvL/wDQKtaTJ5lr/wADer3/ACz30eyIlWmYf+r+VqPM2USf6zdRJ9ySo9lAv20yt/atnH96T/0Orkciv92uSuo66OP93JG1RGJcqhZ02ddVtY57P95bvsdP8tV/7DJ/zzrHggWNNsUfl/8AXOpfJrb2cCPazNL7LP8A886l+w3P3vL/APQKyPIX+GnRwLR7OH9f8MHtaptR6bcz/dj/APItSf2Pff8APP8A8i02CBdm2pdi0ezgY+3mQfZZY5NreX/39/8As6d/Zs//AEz/AO/qf/F1LsWneWv8NHs4F+3mQfZJP+mf/fxP/i6JIGt/vSR/9/U/+LqfYtZl1H5c/wDq6JU4BGtMn8xY/wDlpH/38Sjzl/56R/8Af2qnlp607ZU+ygX7WZc8xf4pI/8Av7R56yf8tI6q+Wv8VEcf92q9kX7WZa+0RR/8tKPtUX8MlRUbFqPZQD2sx0F1FP8A6qT7m/8A77WrXzVmaPt8v/tvN/6G9dHHH5lP2UCJVplH5pKPmrQ8t/Sn+WslHsoB7eRnfN/zzp/zSVe+Wk+XzKXsoB7eZR+al+aStCONZPu0eX/DR7KAe3mUfLaP5qi89Y/vVekj/d1nyRrR7IuNaRL56UeelQf7VJsqPZh7cseelHnpUHltJSbKPZh7cteetHnrVXZT6PZh7cn89Y/mb+PZ/wCPfJU/lyelZl9I/kW7f9N4f/Q0raj+5HV+zCVaRB5ElHlyelXKPM/eUeygR7aZT8uX7tHkSVa8ynfNT9lAPbzKPky/886d5Mv/ADzq5To6Xsg9tMz/ACZf+edHky/886vf6unf6uj2RftpGZ5Mv/POj7PL97y60d9MnjaP71R7OIe3MzY1L5bf886nkkWOj5fvVHs4F+0kVfLam/NVn/dqXyGn+7V+zgR7Uo+XJ6VB/q5I1b/WPV75fu1Wn/5CVmy/7dR7OAe1GeXLH/yzpvly/wDPOtDy/M+VaJP3dX7OIe3M/wAmX/nnR5Mv/POtGk/1dHs4B7aRm+TL/wA86PJl/wCedaNOqPZwL9pMyfJk/wCedH2WT/nnWrlKMpV+zgHtJGV9kn/55/8AoFN+yzv/AMs618pSUezgR7UyfsM//POj7LP/AM860/M8z5aKj2cC/aSMz7LP/wA86b9ln/551rvTaPZwD2kzK+yz/wDPOmfZ5/8AnnWr5lN/3aPZwD2kzMjjaSfylj/efJ/49vp/2SX/AJ51PayeZq1xF/cgh/77bfVv+Gj2Ye0mZ/kyf886PIlj/wCWdaFN/wBpqPZl+2Kfkyf886b5Mn/POr1N/wBXR7MPbFXyZP8AnnR9nl+75dXKKPZh7Yp+S1GxqtR7aP8AWfdqPZxI9rMg8t/Wjy39as+XTfL/AHfy0ezgHtZkXz0fPUlGyj2cS/aCfPTak/2aSjliHtCPzFj+9TYJ1uoY54pP3cyI6f7jfcp0kdU/D/8AyL+lr5f/AC6w/wDoCUcsQ9oXPMo8yj/Vx0bP4aOWIe0DzKPMpeaio5Yh7Qk8xY6POWo6T/ao5Yh7Ql85aZ5y03y/4ab5fl0coe0JfMSk85ah8um+X/DRyh7Qm+1JTf7Si+7+8/79PUf+1SfL/FRyh7Qk+1JSfbFqGk/1nzUeziHtCT7VF/z0/wDQ6jg1izupLiKKT95bOiT/ALp/v/I//oFRf6ysXw/Gv9peIP8Ar+T/ANEpR7OIe0Oj+1RSf8tKj/tKCP70lQbDUHlrJR7MPaFv+1YI/wDlp/5Cpv8AbFtH/wAtP/IT1RkjqnJG0n3av2Ye0Om03dq0cktn+82f+h/8Cqz/AGXff3P/ACJTfBckUFjcbpP461bjxHYwf8tPMqJRgXGUjP8A7Hvv+ff/AMi0z+w77/n3/wDIlSz+MWk+WCOP/v7WZd65PJ/rbz/0CuaVSP2TaMZk91ay2v8ArfLj2f8ATX/2TfVbzKp/bovvNJHHUX26KP8A5aR/+OVj7T+6bRj/AHjR8yjzKzP7Si/hkjqKTUlkk2+ZHR7SYcsDV8ym+YlZX2pZPvSUfak/56R/9/aPaTI5UavmJR56/wDPWsX7V/D5kdN+1eZ/wOnzTL9w2vtCf89Kb9ri/wCelZP2pZP+WlN85armmHuGv9ui/v037VFH96SsOS+WP5vMqCTVYo/n8yr5pkcsDo/tcX/PSmfbov8AnpXMSap+72rUX9pNJ8q0RlMiXIdV/aUH8UlN/tizj/5aVxkkjSSfNUvltJRzEn09+15o9jD8L5J1uMXD7P8AR/8Anptf/wBDV65yCNo/g74XX/phpf8A6HDVn9ozWLTxN8PdUvnk+zyW37hLf+OTc6ffdU2/c/2qrRx+X8IfC6/9MNL/APQ4a+2p/BE+Fo/8vZf4f1O2jj/cR15JrHmx+ILhYJJI5PPfZ5dexR/8e9eUTzrH4uuJW/gunrgxP2Tvoy+L/Cb9rBBY2sdn5kf2j+OT/e/z8tdZ4Z02WOa3Yf2jHBv+eS3+f7v9xF+5t/3q45NKae+8+CT93/zz/wBv/YT+OvQfDk0891b6auof2Xbu/wDzz/j+dHRPn3J/8V/wCopy98809ysNHs49rpHvDJzJ/wA9N3dv7zf7VePftMazP4V0fwjc2MafNrENri4+cbJMo/8AF/d+7XS3WuOl9bv+7vJPnR/s/wDy0T+DZ/c/vtXnf7WGpQf8If4Hiikk8z/hIrD93J9/Zv8A4676cveCcudR5f5o/wDpRm6rdS/2xb2LeXJbzQTP/wADV02f+h0QR/ZZN3mSfO77/wDfanX0e/xNp/8A163P/ocNSzx1fMdXWJFBqq+XtaOsrxHdRTwfLTvMrN1X7m5q45GsPjOekjq5ayL5cf8Av1V8v95/v1PB/q/l/v8A/slc1Q7KfxGN8RpP39vt/jg/9nrhNVjaO1k2123xCkb7dZ/7cH/s9cdqsn7j/P36xl8JtTOCtY1j0q3/AO21R3Sf8e/+3TrWPzNNt938e/8A9kp0m6e0jZP9isTviY3iSNZNKk/4H/6BUlrH5lru/wBZ9z/4up9Sj8+xuP8Agf8A6BUek/vLG3X/AKZpVgUdKgW0eSJf4J3rs7H95H80lcdH/wAhW4Vf+e6f+PJXbaUjeRVxkc1SPumlHu/hq5HHvqCOOp491USWY9tTxx+X96oI/wB5T/8AV1AFmP8AvLUtZ0+qW0Hlq0n36nguln+Vf9ipKidNpX7yCtD/AJZ1n+H5P3ElalanPL4zn5NvmUf6yOT/AIHTpNslN8vfH/wB6yOlHK3X+z/BXR/8865y6ro/+ebf7lY0jWoTxxr5e6pf9Z96oo4/3f8AuVJ/7PWxkL80lHlp6U7/AJaURx1AG1HG0cdJS/NXnvx48f8A/CtfhzqGoRf8hCbZa2P/AF2b/wCJT561OWRxPxO/aw0XwrfXmkaLHHrOqWz+R/rfk3/7G379Y3w4+LHjbxJqvn65HJHpcyf6u3/ceX/uOvzV5/8ABL4T2dvaR6nqccdxqE2x3kk/vt89fSmleHNPjtfl8uvn8XL23NCEj7DA5fCCjVq/EerJpGqaj4Wj1TTbCLULBE/1nyJPJt/21+X/AL6WsHyGutNj1CL95HN9/wD6Z/79SeC/ilrPgWT7NZXfm6f/AB28sX/oH8Vc18VPiVp/hi6/tCzj/d6rvR7e3/vsn8Cfx/39lfPxxGLwE4xjLnidFbBUqvPKUf8At7/7U1Y4/wC7/BT/APV/NWZ4c1y28TaHZ6nZyeZHMn/j/wB1/wDvl61f9X81fdQlGoozifKSj9kb5bVKlM/2adsNaCH/ACx0yP8A2qkpfL/u1AFPQ/8AV7W/57zf+h103+7XPaPH/rP+u83/AKG9dHVxIkO+aT7tN8uneW3l7qb5iyR/LJWftF3J5GHl/wANFHzUR1oAeZ5fyrRJRR/q6AD+Gsz+Ks/xN8QPDnhGfyNX1yy0+4eB5/LuJf8Aliv332f3K4e1/aN+HF9Pbqviyy/fb9nmRunyLvT53ZFVP+B7KiUiono0e2j/AFlU9K1zTvEFjHfaVqFvqlm/3Li2l3pJ/uOvy1eqCyKn/wC7Tv8AYpvl0AGxad5dHl0//doDlIp41kjj3f30/wDQ0rVj3/w1mPv8v/gaf+h1qxyVcQFo8unfN/DSf7VBI35vLp/+rkoo8v8AhqyAop9R/wC1USLF/go+Wj+Oigob5jR/NTpJ/M+ZqbTKAIJI1/hpvl/wNTp6jqC4ieYlP3/w02m0AFVJ/wDj+s/+B1Y+X71Mnj/0q3/33/8AZ6ALXNSU3/lpSUEconl0zKVPTZKC4kXl/wAVJUnz0zy6AFpPLp/NH+s+7QA2kkpaKAGbDUVWKT/eqQG7DTf96paZ/rKAG0z/ANF1L/vU3/ZqgKcEa/2pcN/0wT/2erexqhjj/wBOuN39xP8A2ep/LqQGfLJRT5I/LplAB5f96m/7NS035vu0ARSbfu/79SfLTtjUvl0ARRx0fNTvLp/l0FjKbUvl0zy6ggbRTvL8un+Q0nzrHJQWReX/ABU3y39Kn8hpPu/wUySOgsgn3VW0OPy9D09f+mENXJI6i0v/AJBNn/1wT/2SoES/7NRf6up/9pqbJGtWBFsX71HyU7y/71OoAj+Skp3NJJQBF8v3f7lH+1Tv+WdL5fmfMtAEX+7TvlpaZ5dADflkpn+sp8n7v7tM8vy6ADzKj/1ny1JTf9qgBv8ArKxdDjWO+1hv786f+idlbX+r+7WZpX7y61Bf+m//ALJQSXH3x/LTJI6sc1FJHvoKIJI1qrJHVySoPL/iagkz7rR7bVZP3tnHcSf9NIk/8c3V6Z4M/ZbbWrf7Vqtvb6Pb/J5cX2ZJJNn+191U/wC+qPCV9ovw90mPxBrVv9ouJvksvuff/v7G+X/gdcR44/aT8Wal9og0e8+x73f/AEb777P9v5K8Ovi5VqvsqB6UcNPk5pH0Xo/7NvgDSvLll07+0JE/5+Puf98L/wDs1x3jf4a+DPtUljp9xp2l3k33LP5H+7/c/iSvlqx1zxtrk/y+INV+zv8A6+3+4n+5/wDZ10sGmxWtrHLeRySXkO9/tHm/Pv8A99a5qlPEQ97mOzDYac+aJa8R+EbbQ9Vktmjj+T/plWV/ZUH/AD7x/wDftK9B03UbHx5Y/YZfM/4SSzT/AI+JJf8Aj4Tf/tfxr9xv/s65e+01rWfypfL8yvbw1aFaHw+8ebiaM6M+U5+TSrb/AJ94/wDv1TP7Ktf+feP5P+mSVseQv8VReR5nzV18hxmH/Y9n/wA+8f8A37SucTw5YyXUi/2fb/8AgNXdeQv3axo4P9KuG/2//Z60iRLnM6Pw3p/+jt9jt/8AUQ/8sv4PuVP/AMI5p8n3dPt/+/SVueX+4s2b/ngn/ob0eR/4/VyJj8BwviDwjpUke59Lsv4P+XZP9v8A2K7OfQ7OT4Qao32eP/Vp/wAsk/2Kz9ctfLg3L/fT/wBnrpdnl/CTWP8AYRP/AGSr9z3RR5+Y4Xw/a/ZdNjRf3fyJW/HH/E1U9HRY7G3Zf7iVoRx/w15cvjOyJLHH/dp0cfl/NTf9Z8tSfNJ96pNNR8e3+H+OnRx0fN/DTvLoDU9G+LEcH/CHagyyfvPsqf8Aoaf7H/s1df8A6v4Q+F/+uGl/+hw1kfGLQ4rXwHqlzF/zwT/0NK2Y/wDkkPhf/rhpf/ocNfaRifEUfhl/ij+p3sH7y3jrymSNZPF0m6SS3je6f95H/cr1iH/UR7f7leV+X53jTb/fuv8A2euOv9k76PxzOv8ADMGleHNS+2W0klxIiOn7yVH+99/5P9yty11WxggvIlk/4+fv/c+59/8Av1H/AGXb/wDPvJ/36qzHo8H/ADzk/wC/VEYnnS3IoNcs7G681ftFxJ8//LVK8t+OHiBtc/4RvdH5ezX9O/8AR3yO/wA9es/2XBHJ/wAe8nz7/wDlkleTfGyCKCPwusUfl79f07+5/wA9kraMY85nH4o/4o/+lHe3X/I1af8A9etz/wChw1cuqo3W3/hLtL/68bn/ANDhq9PJ/eqztn8MTA8us/VY/wB3WrWZqsf7uuaRrD4jB2GpY428v/gaUeXUn/LCRG/vpXNUOyn8Zy3jiTzL6z/3K5LUo/MjrsfGieZdWbf7D/8As9cdfbfLk3f7dZ/YOmJwVjG39nWf/Xeb/wAdogk8/Styx/5Wm6b/AMg23/6+pv8Ax3fRax/8Srb/AHN//jtZSOkgk2/ZdzSf5WoNN/49bf8A74/8fer3/LOSJf8Abqnbx+XBtb+B3/8AHqgso3UaprEjf3/J/wDiK7HSpF8iNa5XUo1/tX5f+eCf+OvXUaPJ5kdXExqR902kqzH+7+9UEdWY61MiWvJfjd8cbH4fwf2ZZyfaPEEyb/Lj/wCXdP4Hf/e/uV3fjjxlbeA/Cuoa1ef6u2Tekf8Az0dvkRP+BPXxv4f8I6n8TtWvNVaTzNQmked/M/uf7/8A7JU/3pChGdSfLEZrPxu8W3U8cl5eSfx/+O/7vy/98VNpfx18aaN5bQa5JGnyf6z++yfx7v4Nn/fNeif8Mvz+II7OOK88y4mk/wCeXyRp/H/v13sH7IOi/YZIJbi4uLh0+ST/AJ5/8ArmliaR6scuxH8pi/Bz9sKWCaOx8VR/aI3kfzL23j2fZ/7nyfdf/wBC/wDZ/rXTdSttY063vLOSO4s7lEeCSP8A5aIyfJXyN/wyrP4cjkvILiO4t7b78f2b/WJ/H/er2f4D+bo2k3GlNHcfY33vB9p+5G+/59m7+Bvv7P8AgVYxxcJ1fZROavgZU4c0viO9kk/eU7/WRyL/AL9Nk/1m1qd/yzk/+wrskc0Dk7rd5e6uj/551z11Gv8AFXTf88/+AVjQ+0bVCRP9XU1Zd14j0jSpI4L7VLK3uH/5Z3Fyif8AjjVctb6C+h82C4juI3/5aRy7/wDx9aq5kT+ZTo6b5f8ADT+aYGvHH8nzV88/toaktj4Y8Lq38eq7/wDvmF6+jY4/3fy15b+0F4Hg8ZeH9LaWOOT7Hfef/wAAZHT5P/iKuUvtGMY884xieVeGfE1zo/l2djo8muXEKJ58f2lIEt/992+Xe1eq+APHkfiPzINQ0uPS7iFHfy7e+huk+X/bX5f+AVx2leDdF8ZeH9Plvv8AR9iP5/8AH5j/ADp86MjK/wAla+h+DotN1iOx0qzkjt0gd/Mkl/1m7+P/AL7rxJcn2fiPuqcJzlH3vdMrWfjbfR3flJpeg6fG/wDqPturoj3Cb/7mz7/+w7Vwn7Q2uT+LvBUep2NvJp8lnsSe2k/v/cf/AGX/AL9eoab4LsdSsdup6f8A2hHZ70/j/wBH3f3E/wBr+/8AxU3xx4VsdS8G/wBmQW8clumzZbf7G+oqSpe7LlFKjPllGUiD9lnxPP4u+Gvn3kfl3iXTpPJ/z0f5H+d/vO+z7zvXstcz8P8AR7bwz4cj0qxj+z2afOkflfxt8773+87t/wDs10scbSfKtejTqw5Of4IngYrDTjV9kvj90XfTv+Wez+/XQaV4cgn+e58yTf8A8866DUfD/huSy/0aDULCdP8AlpJJ5yP/AMA+Vq4v7Ywvw8//AJKdP9kY3+U4Lmljjqe6tfssm1ZI5P8AP/jlVvm+9XqUqkK0eaEvdPLq0p0ZctWPLIbpUaxx/wDbeb/0N6x/HHxs8NfC++s4tXvI/tD/APLP/wBA+T72+sb4h/EOL4Y+A7zWGj+0XHnzQWsf/PSZt+zf/sL99q+cPA3wr1jx/d3ni3xN5l5rlzv8iO4/5Zo33P8AcrjxdT3JR5v/AJI6MDRnWn7sT3f4jftLy65Bb/8ACPR+Z5P/AEzdH3t8n3GfbXnPhj4qeL49Yj1C+s737Oj/APLSJNmz/cX7n/j9ey/Dz4e6ZBo9uv2f958nn+ZF8+/+PfXT3XhW2kj2xRx/x185TwsYw5o/F/MfWSwv80jxS6/azg8N31vFqen+Z5zv/seX/wB9bq938K+JtM8Y6VHqelXEd5Zzf8tI68r8efs86d8Q4PKe8ks5E2f6uL+P/viuS/Zvgufh5481DwleSf6PMkzwRyfP5ky7N+x/uumzzHr18DX+zKX/AIEfP4/Cck5Sj8J9M+XXh37THx4k+E+lR2OjSWX/AAkF5skT7Rv/AHcLPsd