Human Rights: Universal Periodic Review of Portugal was completed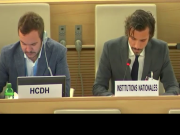 The Ombudsman participated on September 20 at the 42nd Session of the Human Rights Council – which took place in Geneva from 9 to 27 – where the report of the Universal Periodic Examination of Human Rights to Portugal was discussed and adopted.
Represented by Adviser to the Cabinet Ricardo Carvalho, the position of this State body focused on the recognition of the progress achieved, but also on the difficulties that persist, namely regarding the realization of social rights, the prevention and combat of domestic violence and the failures of the prison system, similar to what he had done at the pre-session on April 3 and 4.
This 3rd evaluation cycle resulted in 245 recommendations addressed to Portugal, of which 231 were accepted and 14 noted.