First interim evaluation of the human rights training program conducted by the Ombudsman of Portugal with the Turkish counterpart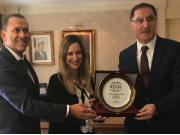 On 25thFebruary, the first interim evaluation of the Twinning Project for the Empowerment of the Role of the Ombudsman Institution of Turkey on the Promotion and Protection of Human Rights, under the responsibility of the Portuguese Ombudsman, was held at the Turkish Ombudsman Institution in Ankara.
The meeting was attended by the Project Leaders and Heads of International Relations of the two institutions, the European Union Delegation in Turkey and representatives of the Government and Parliament of Turkey.
As part of this project, four training missions have already been developed for training the staff of the Turkish Institution and to share experiences and good practices on dealing with complaints on the matters of environment, housing, right to water, police, prisons and human rights, civil service regime, prohibition of discrimination , rights of women, children, migrants and refugees, LGBTI persons, rights of older persons and of persons with disabilities, as well as on the role of the Ombudsman in combating gender-based violence and trafficking of human beings.
This Portuguese-Turkish partnership was inaugurated on November 12, 2018, after last July the Ombudsman of Portugal was selected by the EU to lead the twinning project for the technical training of the Ombudsman of Portugal. Turkey.
The project will be developed over 2019 and is part of the general objective of strengthening the rule of law in Turkey and aims to develop the capacity of the Ombudsman, the Ombudsman's institution, to defend fundamental rights, of complaints against public authorities, promotion of respect for human rights and guarantee of independence vis-à-vis political power.
Ana Rita Gil, Deputy Office of the Ombudsman, and Miguel Coelho, Coordinator at the Ombudsman's Office, lead the coordination of this project.